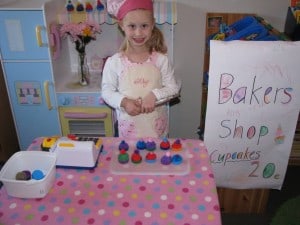 Imaginative play bakers shop was inspired by our mini cupcakes which we made previously. They make a brilliant prop to encourage the imaginary world in a bakers shop.
Imaginative play is one of my favourite playtimes. It allows kids to explore the imaginative world, be whatever they would like to be and it is so much fun! There is so much learning and development happening too!
Making our bakers shop sign to hang up outside the shop.
Imaginative play has no limits; here is my 14 month old getting involved in the play time.
Miss 5 getting the cupcakes out of the oven while Miss 3 is washing up the dishes.
Miss 3 taking a phone order from her Dad who rang the wrong shop, he was asking for toast….. 'Good one Dad!'
Practising and experimenting with social skills. Speaking, listening, watching, taking turns and trying new words.
We used bottle tops for pretend play money. (Click here: other bottle top play ideas)
Just like in the real world, using tongs and a toy spatula to serve hot cupcakes. Practising fine motor skills and hand and eye coordination.
Serving cupcakes and tea to the customers. Would you like tomatoe sauce with that?
During imaginative play, children re-enact what they see and experience in the real world. For example the tomatoe sauce bottle on the table and a straw in a bottle of water are just like that in a restaurant or at home ….too cute!
I try to recycle where ever possible and add these to my kid's imaginative play props box. They are always finding new ways of bringing them into their play times.
Imaginative is beneficial for children because:
It provides opportunities for children to identify with the adult world.

Develop social skills: practising negotiation skills, turn taking and sharing. Provides opportunities for working out problems and experimenting with solutions.

Encourages imagination: Children can be anyone and do anything in the pretend world.

Develop language skills: practising listening, looking and talking. Being spoken to and talking with other people, also developing an understanding of what is being communicated through body language such as smiles and nodding.
You may also be interested in:
Imaginative Play Ideas with Bottle Tops