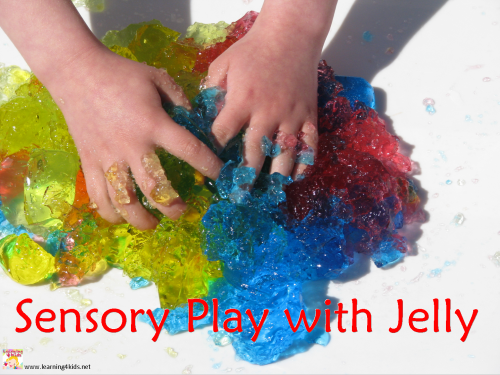 Ooey, gooey, slushy and messy! Playing with jelly!
I have had this sensory play activity planned for some time and I am so thrilled that spring has finally arrived and it is warming up outside! We can start doing more outside fun things like playing with Jelly!
Playing with Jelly is a sensory activity for kids to explore through their senses the many wonderful textures and qualities of jelly. Yummy too!
What you will need?
You will need jelly of course! You will also need an assortment of plastic containers of all shapes and sizes, ice cube trays and a large tray or container to put all the jelly mess in for playtime.
I prepared the jelly a few days before with big eyes watching with excitement!
When the jelly was set, I used a plastic spoon to help get the jelly out without destroying the shape too much. I was really surprised at how easy they actually came out!
Let's Play 
Building and making things with the different jelly shapes but that didn't last long before squishy the jelly altogether……so much fun!
Let's Explore 
Exploring the sense of touch! We talked about all the wonderful describing words of how the jelly felt in our hands. Squishy, sticky, slippery, slimey, sloppy and smooth. We joked about how it would feel to have a bath in a tub full of jelly.
Let's Discover
We explored our other senses too: sense of smell, taste, sight and hearing. The jelly smelt sweet and fruity, tasted yummy and sweet, sounded like popping bubble wrap and looked colourful and lumpy! So much fun!
Let's Pretend 
As the sun started to melt the jelly it turned into a watery slush; great for toy animals to play in pretend mud.
Let's Learn
Jelly hands and jelly feet, I ended up chasing the kids around the back yard with the hose to clean up. I also hosed the jelly into the grass, too easy and no mess. The kids had so much fun that I have been asked if we can do this again soon!
Learning Opportunities
Sensory play encourages children to manipulate and mold materials, building up their fine motor skills and coordination.
Sensory play uses all 5 senses, but the sense of touch is often the most frequent. Toddlers and children process information through their senses. They learn through exploring these.
Sensory play is process-driven, not product-oriented; it is the purest sense of exploratory learning
Self-esteem: sensory play offers kids the opportunity for self-expression because there is no right answer and children feel safe to change or experiment with what they are doing.
Language development and learning new words.
Other jelly activities on learning4kids: click on the image
Available in our Online Shop 
<click on images>