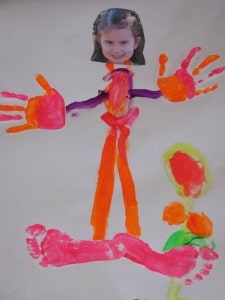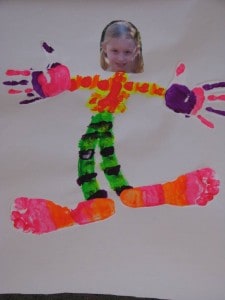 Paint Me is a cute and quirky activity that kids will enjoy making!
I plan to use ours as keep sake to giggle at in years to come. It is a perfect snap shot of the size of your kids hands and feet to compare with when they get older.
Let's Play 
Firstly we printed off a recent photo and glued it at the top of a piece of paper. Then painted our bodies and put it aside to dry.
We painted our hands and feet and pressed them firmly onto another sheet of paper. When the paint had dried we cut out the hands and feet.
Let's Play Some More 
Giggling because the paint brush tickles! Pink feet!
So Much Fun! 
The best part of the activity: gluing on our painted hand prints onto our arms and our feet to the bottom of our legs. Makes a great quirky picture! My kids have stuck their painting up onto their bedrooms doors and we always get giggles when we have visitors.