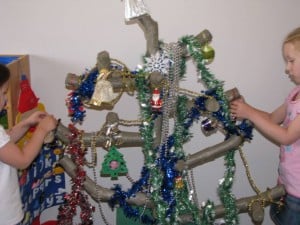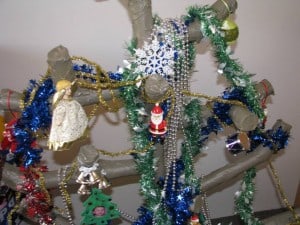 Imaginative play at Christmas time: Miss 5 and 4 had so much fun decorating our paper mache tree made out of toilet rolls.
To make the play time that much more special we played Christmas carols as they got busy decorating.
Click here for step by step instruction on how to paper a toilet roll paper mache tree.
Let's Play 
So much learning is happening, fine motor development with weaving and threading. They are also practising their problem solving skills, spatial awareness and exploring size. When a string on an ornament was too small, Miss 4 and 5 would search for another one that would be more suitable.
Let's Create 
The paper mache tree is at a perfect height for the kids to reach and walk around to cover all the spaces.
Let's Learn 
Imaginative play is a wonderful social activity; speaking and listening, team work, negotiation, taking turns and role playing.
More Christmas Activities <CLICK HERE>