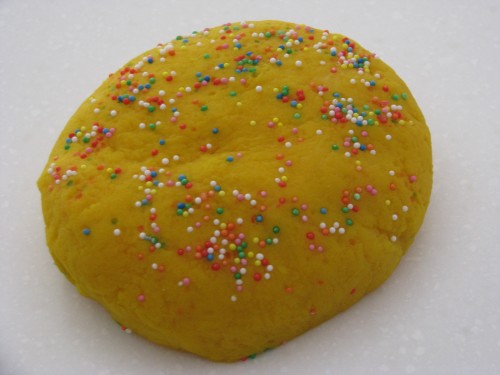 Party Play Dough is a fun, bright and colourful play dough with 100s & 1000s sprinkles kneaded through it. I have named it Party Play Dough because I associate 100's & 1000's sprinkles and bright colours with parties. This would be a great play dough to have as an activity at a child's birthday party.
What you will need? 
1 cup plain flour
1 tablespoon oil
1 cup water
½ cup salt
¼ cup 100's & 1000s sprinkles
2 teaspoons cream of tartar
2 teaspoons yellow food colouring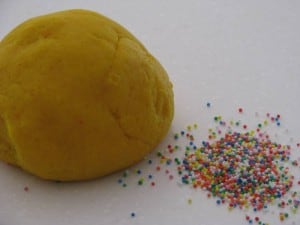 How to make it?
Pour all dry ingredients, flour, salt and cream of tartar together in a saucepan.
Add oil, food colouring, and water to dry ingredients.
I use a whisk before heating as I find this helps remove lumps and blends the ingredients.
Cook over medium heat constantly stirring until it becomes a thick blob.
Then turn out onto a clean surface and knead into a smooth blob.
Allow the play dough to cool before kneading in the 100s & 1000s.
Store in a plastic zip lock bag or air tight container.
Other Tips: 
If the play dough is too warm the 100s & 1000s will melt.
I also found that warm hands melted some of the 100s & 1000s during playing with it. I had some in sprinkles in a small bowl to add to the play dough during play time.
To download and print this recipe click here: Recipe for Party Play Dough