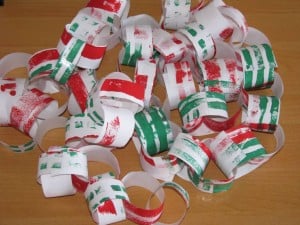 Christmas paper chains are a great way for decorating the Christmas tree, the house or classroom at Christmas time. They are so simple and fun to make!
We made our own colourful paper using paint and paint rollers to create patterns.
What you will need:
You will need white sheets of paper, green and red paint, clean meat trays sponge paint rollers, scissors and sticky tape.
Let's Play 
Sponge rollers are great for making patterns. The hardest part of the activity for the kids is waiting for the paper to dry!
Let's Learn 
We cut our painted paper into strips approximately 25cm long x4.5cm wide and looped them around each other attaching them with sticky tape.
So much learning is happening; concentration, hand – eye coordination and fine motor skills development. As we were making these, we chatted and made it a real social activity while listening to Christmas songs. Some enjoyable family time.
Christmas Paper Chains 
We played with our paper chains and decorated our Autumn Tree (from a previous post) and measured our heights. We used them as necklaces and many other imaginative play games. We also measured each other and counted how many paper chains long we were.
Other Ideas:
You could use commercial gift wrap cut up into strips to make paper chains.
Red and green are known for their Christmas colours but you can create any colour theme with these paper chains. You may like to try purple and silver or green and gold.
More Christmas Activities <CLICK HERE>
Visit our Online Learning 4 Kids Shop 
The Ultimate Christmas Printable Activity Pack – 100 pages and over 20 activity ideas