Christmas Sensory Play Table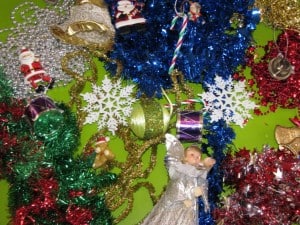 Christmas is an exciting time; it is also a time when we pull out all our Christmas decorations.
There are lots of great sensory toys to explore with Christmas decorations, so I set up a sensory play table using several Christmas decorative items.
The play table included tinsel, bells, beads, glitter snowflakes and an array of ornaments.  You don't need a lot to set up and create an effective Christmas Sensory Play Table.
[h2 border style2]Let's Play [/h2 border style2]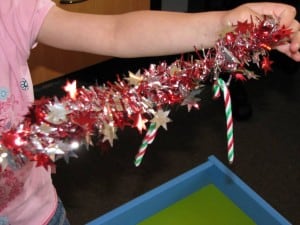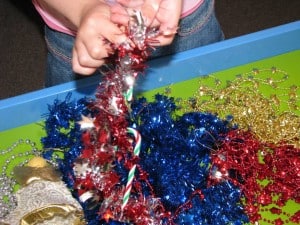 Hands on! Getting creative and using some tinsel threaded with candy cane ornaments. Listening to the noise of the rustling tinsel and exploring its texture.
[h2 border style3]Let's Explore [/h2 border style3]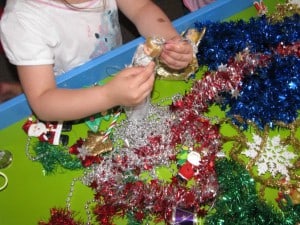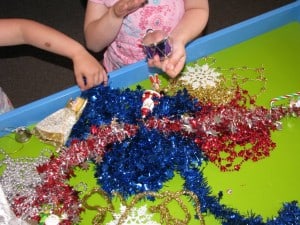 Engaging in all the senses, looking, touching, feeling, smelling, (not tasting) exploring and having so much fun!
[h2 border style2]Let's Learn [/h2 border style2]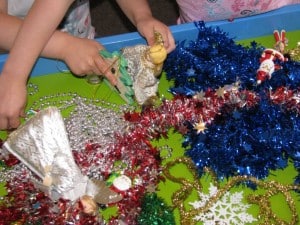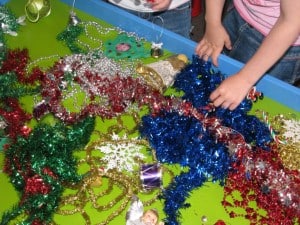 Miss 4 and 5 went from picking up one item to another; touching, feeling, looking and exploring as they went. Miss five created a story using pretend and made up characters with a wooden Christmas ornament and the Christmas angle.
Sensory tables are undirected and open-ended to the imagination and creativity.   Allowing kids to create freely encourages self-expression, I love to watch them develop their own ideas!
More Christmas Activities <CLICK HERE>
[h2 border style2]Visit our Learning 4 Kids Online Shop [/h2 border style2]
The Ultimate Christmas Printable Activity Pack – 100 pages and over 20 activity ideas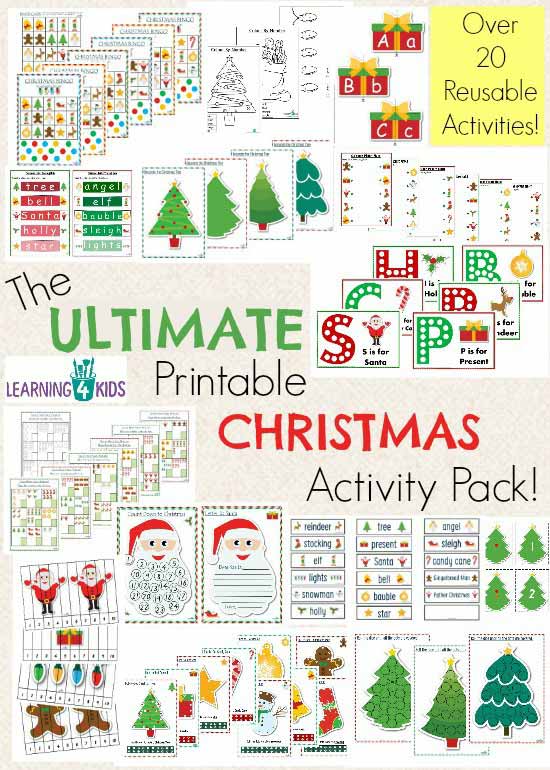 LIKE THIS POST
Come join the many playtimes here on Learning4kids, please enter your email address in the subscription box to receive updates right to your inbox!
3 responses to "Christmas Sensory Play Table"