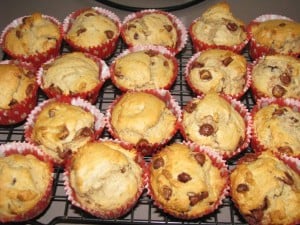 Homemade Banana and Chocolate Chip Muffins are my kid's favourite lunch box treat and the recipes so simple to make!
I absolutely love a recipe where I can just throw all the ingredients into one mixing bowl together at the same time. This Banana and Chocolate Chip Muffins is just one of those recipes.
Cooking with kids has so many learning benefits, the social interactions, processing information, mathematics, following directions, problem solving, coordination and most importantly it is so much fun!
Ingredients:
½ cup softened butter
¼ cup sugar
1 egg
1 ½ cups of mashed banana (approx. 3 medium bananas)
1 ¾ cups self-raising flour
½ teaspoon nutmeg
¼ teaspoon baking soda
½ cup chocolate drops
Method:
Preheat oven to 180 Degrees Celsius.

Place all ingredients into a mixing bowl and mix on medium speed. Mix until mixture becomes a creamy yellow colour. If the mixture appears dry, add another banana .

Divide evening into muffin trays.

Bake in the oven for approximately 10 – 15 minutes or until golden brown.
Click here to download and print this recipe: Printable Recipe – Banana and Chocolate Chip Muffins