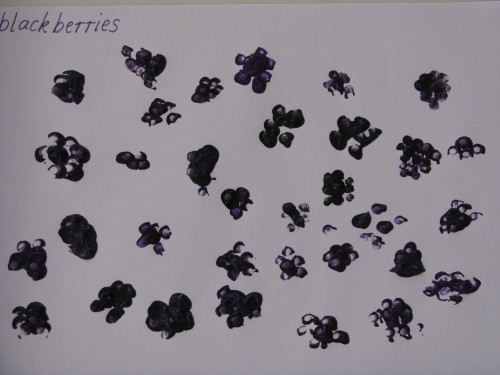 As some of you may know I have been exploring blackberries with my kids this week and making blackberry play dough. All of these activities were inspired by reading the children's book Mr McGee and the Blackberry Jam by Pamela Allen.
It had been a while since we have pulled out the paints so I thought we would get them out to do a little finger painting and incorporate it with our theme of blackberries. We made some blackberries using purple and black paint and our fingers. It is always so much fun painting with our fingers!
What you will need?
You will need a purple and black paint, picture of blackberries (or real ones) for reference and paper. We only used a small amount of black paint and a larger amount of purple paint because black is over powering and I wanted both colours to come through in the finger painting.
Let's Play 
Using the tips of our fingers dipped and mixed through the purple and black paint to create blackberries. The tips of the fingers are great for making painted blackberries because they imitate the small round balls that make up the shape of blackberries.
Let's Learn 
Having fun using up the left over paint to create hand and finger paintings. I plan to place a photo of the girls that I have taken while they have been playing and learning about blackberries onto these painting.
Other Blackberry Activities: