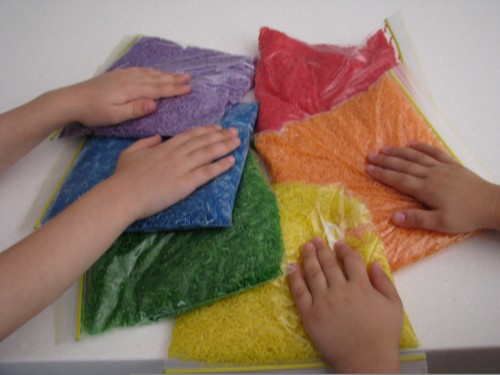 Bright, colourful, no mess, and fun – sensory play with rainbow coloured rice in zip lock bags.
We have a few activities planned for the rainbow coloured rice but the exploration play began here with the rainbow coloured rice bags.
What you will need?
You will need 12 cups of rice (2 cups per bag), food colouring (alternatively you can use paint to colour the rice), sandwich zip lock bags and a container with a secure lid.
Miss 4 and 5 helped me make the rainbow rice bags by pouring two cups of rice into a plastic container with a secure lid, adding a decent amount of colouring and shaking it up until all the colouring is mixed through. We added more colouring if needed and put the coloured rice into a zip lock bag. Then we washed out the container ready for the next colour and rice.
Let's Play 
Something that really grabbed my girl's attention was the smell of the rice bags, they loved it! We had used jasmine rice and it smelt beautiful which was great for adding to the sensory experience!
Let's Learn 
Great for tossing up into the air and feeling the rice move and slide around inside the bag.
Ordering and sequencing the colours to mimic that of a rainbow, using the two rainbow songs to help with the correct order.
Find rainbow song lyrics here:
All the Colours of the Rainbow
Let's Explore 
That's what sensory play is all about – Exploring through touch, squishing and feeling around all the textures of the rice in a zip lock bag.
Sensory play with rainbow rice bags has many learning benefits:
Sensory play encourages children to manipulate and mould materials, building up their fine motor skills and coordination.
Sensory play uses all 5 senses, but the sense of touch is often the most frequent. Toddlers and children process information through their senses. They learn through exploring these.
Sensory play is unstructured, not product-oriented; it is the purest sense of exploratory learning.
Self-esteem: sensory play offers kids the opportunity for self-expression because there is no right answer and children feel safe to change or experiment with what they are doing.
Language development- experimenting with language and trying new words.
Great for learning colours and sequence of colours in a rainbow.
Other ideas for using the Rainbow Rice: