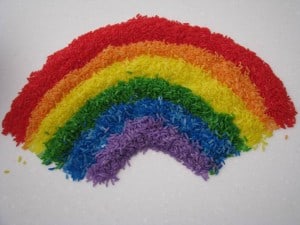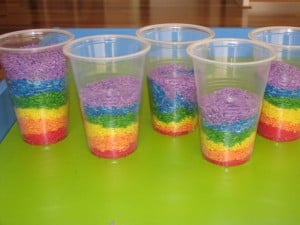 Using the rice from our Rainbow Rice Bags sensory play activity we went onto making our very own rainbows. We used the coloured rice to form layers in clear plastic cups to mimic that of a rainbow.
Before we went onto make our rice rainbows in a cup, we made a rainbow using the rice on the kitchen bench top by scooping the coloured rice from each separate bowl, then shaping and moulding the rice into shape of a rainbow. I just love how the colours are bright and really stand out!
Let's Play 
We placed each colour of rice into a separate bowl with a small scoop for collecting, moving and pouring the rice. We talked about the order of colours in a rainbow and placed them into a line.
Miss 4 and 5 scooped and measured each colour and placed them into their clear plastic cup, layering each colour to form their rice rainbow in a cup.
Let's Learn 
 

Making Rice Rainbows in a Cup encourages many learning opportunities:
Mathematics – measuring similar quantities for an even pattern.
Development of hand and eye coordination.
Exercising fine motor development
Becoming familiar with ordering and sequencing colours of a rainbow.
Self-esteem- a sense of pride and achievement