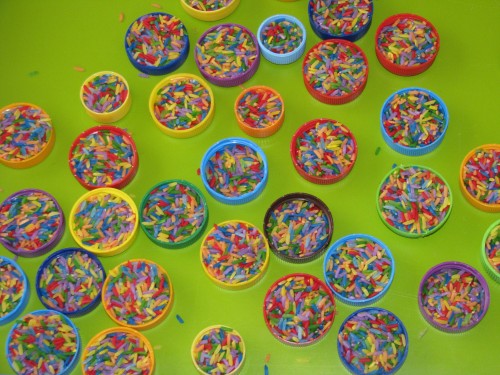 It is always interesting to see what kids come up with when you give them simple props to promote play with an open-ended, unstructured activity. In this case sensory play with rice and bottle tops, two main props to inspire the imagination and creativity. We have re-used the rainbow rice from the previous activities, Rice Rainbows in a Cup and Rainbow Rice Bags and developed a sensory tub/table to promote learning and fun.
What you will need?
You will need the left over rice from the previous rainbow rice activities, bottle tops and a large container. We mixed the coloured rice together and place it in a large plastic clear container and added bottle tops to the play table.
Let's Play 
Straight into it – they love the feel and texture and can't wait to play with it!
Let's Play 
Miss 4 and 5 had so much fun pretending to be little chefs serving food to customers. They were measuring and scooping up the rice using the bottle tops. Moving the rice from one bottle top to another and levelling it with their hands so it was nice and flat…..aah the imagination!
Let's Learn 
Later that evening Miss 4 came to me saying "I made a bottle top rainbow in a cup Mum," I had to take a photo! Kids have the best ideas……I never thought of this! She has used the bottle tops from this activity and the idea of a rice rainbow in a cup and brought the two together.
There are numerous learning benefits:
Promotes imaginative play – taking on roles and characters
Strengthening fine motor
Hand and eye coordination
Other Rainbow Rice Activities