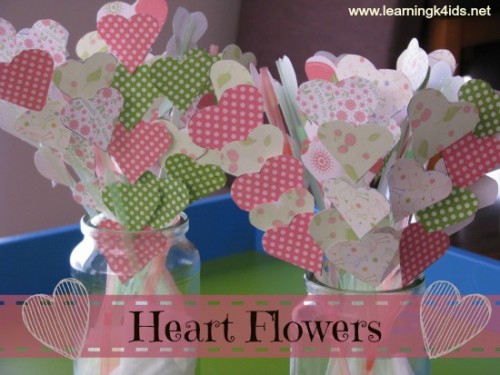 Heart Flowers is a homemade craft using straws and heart shaped scrapbooking paper.
Making heart flowers in a vase is an activity that you could do with the kids to celebrate Valentine's Day, Mother's Day, birthdays or any other special occasion.
What you will need?
You will need a glass jar, straws, sticky tape and decorative paper such as card stock or gift wrap. You could also use the paper from a child's painting using red and pink paints to keep with the theme of Valentine's Day.
I printed the heart shapes onto the decorative paper; you can download and print it from here:
Printable Hearts for Heart Flowers
Let's Create 
Our jars were extra tall so I stuffed some tissues into it to help make the flowers stand taller.
We also found that the sticky tape was causing a problem, that the girls were spending a lot of time fiddling with it. Therefore I pre-cut the sticky tape and had it ready for the girls to assist with this activity. All they had to do was grab it off the side of our craft table.
Let's Play 
Miss Four and Five have placed their heart flowers onto their bedside tables for decoration. They have now decided to give their Heart Flowers to their teachers to say thank you for an awesome first day at school.
Learning Opportunities
Sense of pride and achievement of making something
Social – the act of giving and kindness (a gift)
Problem solving – finding ways to overcome challenges
Development of fine motor, hand and eye coordination and concentration
Other Flower Crafts on Learning4Kids: