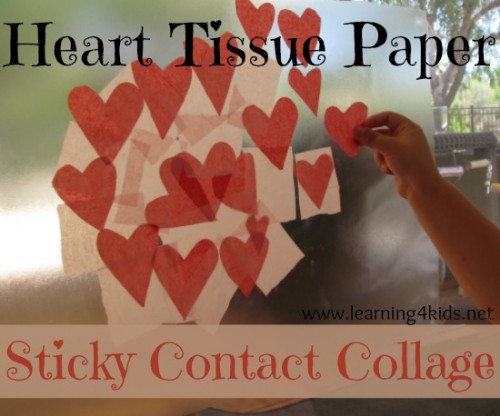 Today we made a Tissue Paper Window Collage and experimented with shades of colour with tissue paper, all with the theme of Valentine's Day in mind. We used tissue paper and clear contact to create a heart window collage and when the sun shines through, shows the different shades of reds and pinks created by overlapping the tissue paper. This is such a fun and simple activity to do with the kids as they create their very own piece of art on a sticky canvas.
What you will need?
You will need red and pink tissue paper, sticky tape and clear contact.
To save time cutting out the hearts, I had the tissue paper folded over several times to create numerous hearts from one cutting. I laid the tissue paper out in separate containers and put the contact onto the window with sticky tape, with the sticky side face outwards.
Let's Play 
It is so much fun creating on a sticky contact canvas as the sun shines through and the tissue paper overlaps and creates new levels of pink and red. Miss Four liked to randomly place her red tissue paper hearts and experimented with colour by overlapping the red hearts with pink. Miss Five explored the levels of colour and tissue paper through creating pictures and patterns.
Let's Learn 
Once my girls had finished creating their collage, I cut out a similar size piece of contact, removed the backing and placed the sticky side down on top of the tissue paper.
Learning Opportunities 
Promotes and encourages self-expression and creativity
Develop self-esteem: sense of pride and achievement of the final product
Exercising fine motor, eye and hand coordination through manipulating materials
Click here for more great Valentine's Day Activities and Ideas