Valentine's Day Activities for Kids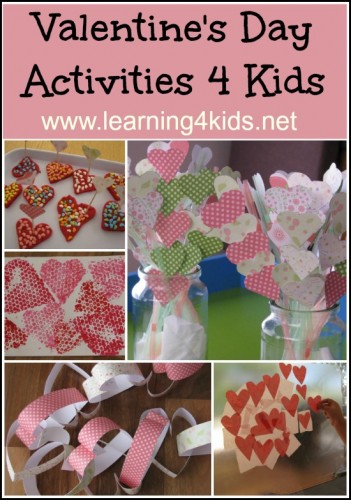 Valentine's Day Activities for Kids
With Valentine's Day just around the corner, I thought I would collate all the activities we have done so far here on learning4kids.
[h2 border style2]STRAWBERRY SCENTED VALENTINE'S DAY PLAY DOUGH [/h2 border style2]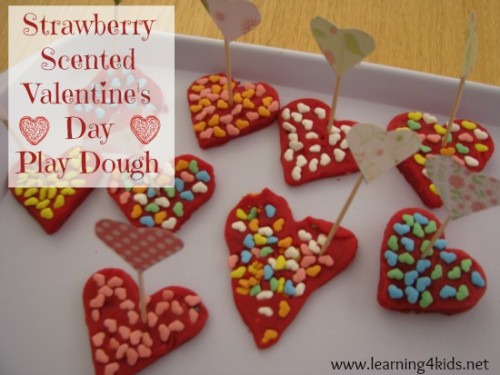 To inspire creativity and the imagination set up a hands-on play dough activity with bright red play dough with sugar heart sprinkles and decorative heart shaped tooth picks. Read more…..
[h2 border style3]HEART SHAPED PAPER CHAINS  [/h2 border style3]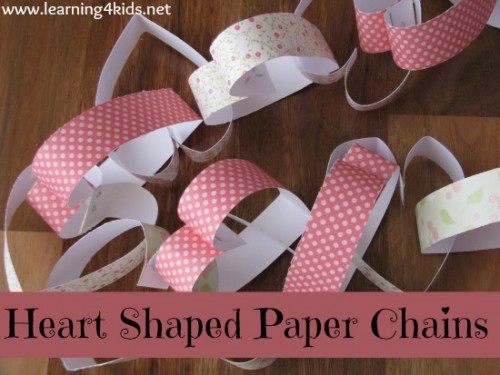 Heart Shaped Paper Chains are so much fun and super easy to make.  They are a great activity to do with the kids this valentine's day and use them to decorate their bedroom, play area or classroom with.  Read more…..
[h2 border style2]HEART FLOWERS [/h2 border style2]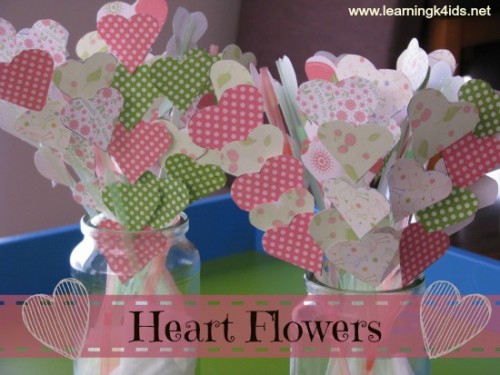 Making craft heart flowers in a vase is an activity that you could do with the kids to celebrate Valentine's Day as a special gift to give or a pretty decoration. Read more…..
[h2 border style3]BUBBLE WRAP HEART PAINTING [/h2 border style3]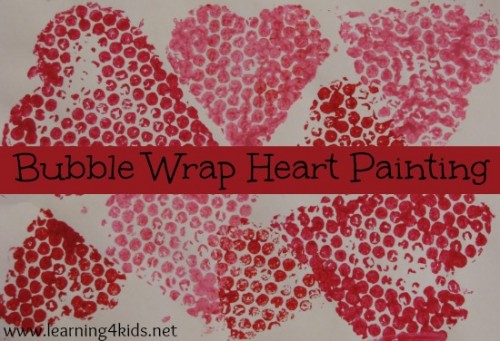 To keep with the theme of Valentine's Day why not try this paint printing activity with bubble wrap and red and pink paint.  The bubble wrap is cut into different size heart shapes which are used to create painted heart prints on paper.  The painted artwork makes a perfect gift wrap paper for valentines.  Read more…..
[h2 border style2]HEART TISSUE PAPER WINDOW COLLAGE [/h2 border style2]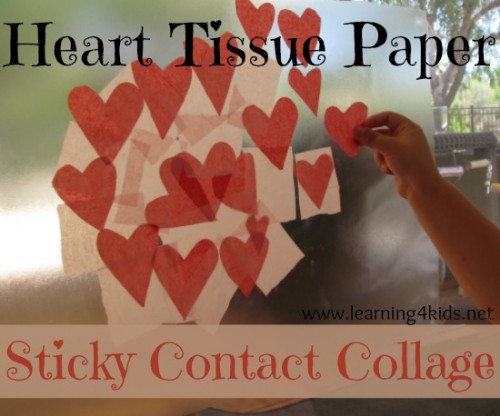 Create a Heart Tissue Paper Sticky Contact Collage with cut out heart tissue paper pieces and clear contact attached to a window.  When the sun shines through it shows the different shades of reds and pinks created by overlapping the tissue paper.  Read more…..
Eye spy with my little eye…….other FABULOUS Valentine's Day activities I have found around the web!!
Click on the links to take a look!!
Toilet Paper Roll Heart Stamp by Rust and Sunshine
Lollipop Flowers Valentine's Day Card by Spoonful
Roller Painting by Artful Child
Homemade Heart Sponges by Learn Create Love
Valentine's Heart Scented Tied Pillow by De Tout Et De Rien
Musical Hearts by Mom to 2 Posh Lil Divas
LIKE THIS POST
Come join the many playtimes here on Learning4kids, please enter your email address in the subscription box to receive updates right to your inbox!
4 responses to "Valentine's Day Activities for Kids"