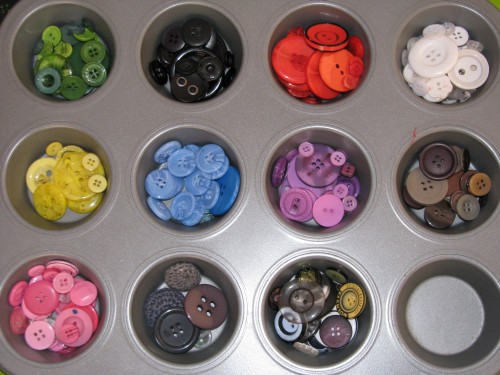 Buttons are amazing as there are so many different shapes, sizes, colours, materials and styles. Kids love to run their hands through buttons, sort through them and explore the differences. Buttons are a great sensory toy and are also great to assist in learning about colours.
What you will need?
You will need a muffin tray and an assortment of coloured buttons. You can pick up large jars of buttons from some second hand stores or you can alternatively use coloured pompoms for this activity.
Let's Play 
Sorting the buttons according to colour into the different sections of the muffin tray.
There are so many kinds of buttons – We talked about what some of the buttons may have been used for.
During the sorting activity, my girls discovered a problem – some of the buttons had more than one colour and didn't belong in any group. It was decided to make a spot for multi-coloured buttons.
Let's Learn
Learning Opportunities
Fine motor development: pinching and picking up small objects
Concentration and memory: remaining focused on set challenge
Eye and hand coordination: trial and error through doing and watching
Becoming familiar with and learning colours
Social: Practising interactions and discussions with others.
Problem solving: Exploring strategies to assist in overcoming any problems that may arise.
Cognitive – become familiar and learn about colours.
You could vary this activity by:
adding a pair of tweezers
sort the buttons according to size, shape, style or fabric
arrange the buttons to form shapes, letters, names and numbers
More Colour Activities <CLICK HERE>