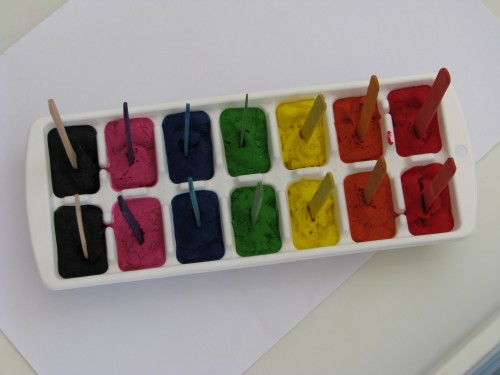 The great thing about the internet is that there many fabulous sites out there sharing so many wonderful play and craft ideas. This post has been developed on the fabulous idea Frozen Paint Art – Cool Fun on a Hot Day I found on the gorgeous blog Mom to 2 Posh Lil Divas. It looked like so much fun that we had to give it a try. My girls renamed this to Paint Pops and had a blast painting with melting ice paint!
What you will need?
You will need paint, ice cube tray, pop sticks, paper and a divided paint tray. We froze the paint a little then took them out the freezer to place in the pop sticks. When we were ready to use the frozen paint pops we placed them in the sun for little to slightly melt them and remove them from the tray.
Let's Play 
Some of the paint pop creations made by Miss 4 and 5; a garden of flowers and a boat on the sea. Miss 4 loved to just mix the colours together on the paper, making new colours.
Let's Play 
Making patterns and swirls with the paint pops! These will make great wrapping paper for Nanny's birthday present!
Learning opportunities:
Self-expression with paint
Eye and hand coordination
Fine motor development
Experimenting and exploring with a new paint tool
Sense of achievement and pride
Available in our online shop: 
Click on the images