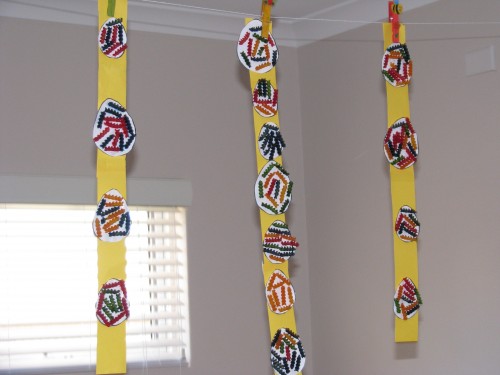 Making Pasta Easter Egg Hanging Decorations is a super easy creative Easter activity for kids. They are so simple to make as kids love to glue and create colourful eggs using the bright coloured pasta.
What you will need?
You will need 4 cups of spiral pasta, food colouring, PVA craft glue, small paint brushes, Printable Easter Egg Template and a clean meat tray for the glue. This is great for throwing away at the end to save on cleaning up.
Download the printable template here:Pasta Easter Eggs Printable Template
How to make the coloured pasta:
I placed 1 cup of pasta and food colouring into a plastic container with a screw top lid and gave it a really good shake until all the pasta was coloured, adding more colouring if needed. I then placed the damp pasta into a bowl lined with a paper towel to dry out before storing it in a zip lock bag until I was ready to use. I washed out the plastic container and repeated this to make the other colours.
Let's Create 
Using the paint brushes to apply the glue and then arranging the coloured pasta to create patterns and colourful eggs. I find using small paint brushes to apply the glue helps reduce the mess!
Let's Play 
Once the eggs were dry, we cut them out to make the hanging decoration. You will need sticky tape and paper, we cut an A4 sheet into strips and sticky taped them together to make the strip longer. Using double sided sticky tape; my girls arranged and placed their pasta eggs along the length of paper. Miss 5 wanted an extra-long strip of paper, whereas Miss 4 spread out and arranged her pasta eggs along two different lengths.
Let's Learn 
Our Pasta Easter Eggs hanging up in our play room!
Learning Opportunities 
Fine motor development, concentration and hand and eye coordination
Estimating, approximation and spatial awareness – covering the area of the egg shapes within the lines
Left Over Pasta
The left over coloured pasta can be used for a number of activities; Miss 4's favourite is to use it as pretend food in her play kitchen. We also used it to create a sensory play activity with bottle tops, mixing, moving, pretending and playing. At one stage Miss 4 and Miss 20 months pretended that the coloured pasta was fireworks, I love the imagination!