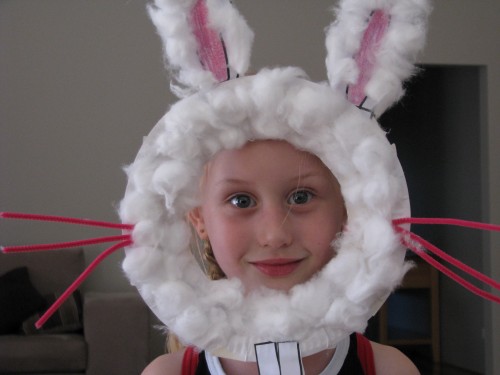 Children have the most amazing imaginations as they love to pretend and play to be something or someone of interest to them. Making masks helps to encourage and promote this imaginative play.
With an Easter theme in mind we have created some simple Easter Bunny Masks using paper plates. This was a real hit with all my kids but I just loved watching my 20 month old trying to hop and jump around while making a rabbit sound with the mask.
By the end of the activity we had some very sticky and fluffy fingers but lots of fun was had!
What you will need?
You will need paper plates with the centre cut out, cotton wool balls, large pop sticks (something similar-maybe a ruler) to use to hold the masks, pipe cleaners, we have cut ours in half, masking tape and PVA craft glue. You will also need to print off the Easter bunny ears and teeth, click here to download for printing – Easter Bunny Masks Printable Template
Let's Create 
We made our Paper Plate Easter Bunny Masks by sticking taping on all the ears, teeth, pipe cleaners and large pop stick first. I used masking tape because I find this stronger and a better surface for gluing the cotton wool on top as it is not a slippery like sticky tape.
Tip: use the back of the paper plate as the front or face of the mask. This way it folds slightly towards the child's face when playing with it.
Let's Play
The sticky and fluffy part of the activity: gluing the cotton wool onto the paper plate and ears. Miss 5 wanted to colour her ears in pink!
Let's Learn 
Laying our Easter Bunny Masks out to dry as the glue can make the cardboard soft but as it dries it will become strong and less floppy to hold.
Tip: If the ears become floppy and won't stand up straight, sticky tape a pop stick behind them to straighten them up.
The fun and learning that happens when making Easter Bunny Masks:
Promotes and encourages self-expression and creativity
Develop self-esteem: sense of pride and achievement of the final product
Exercising fine motor, eye and hand coordination through manipulating materials
Develop social skills: practising negotiation skills, turn taking and sharing. Provides opportunities for working out problems and experimenting with solutions.
Encourages imaginative play: Children can be anyone and do anything in the pretend world. Making connections with the adult world.
The Preschool Toolbox has the most gorgeous lion and lamb paper plate masks ideas: Click on the image to find out more