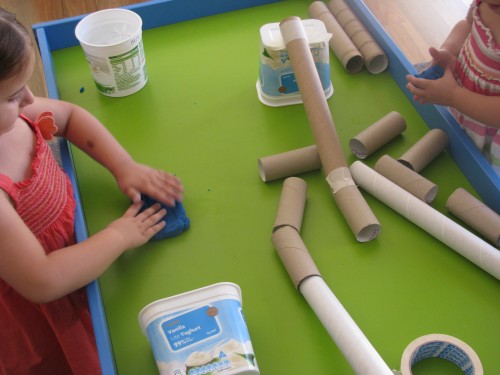 Cardboard tubes are a great addition for playing with play dough. The creativity and imagination is endless with this invitation to play.
Play dough is a great sensory toy for kids and is one of the many great props we can offer them to promote play in an unstructured way. It provides an opportunity for many learning experiences such as problem solving and imaginative play but mostly it is known as an excellent tool for developing fine motor skills.
What you will need? 
For this play opportunity I have provided two main items, play dough and cardboard tubes. My kids later (and their play date buddy) added empty yoghurt containers and then toy cars.
I have a dedicated shelve in my pantry for all the cardboards boxes and recyclables, my kids will often help themselves to these things to add to their games and activities.
You will find a simple play dough recipe and instructions here: How to Make Play Dough?
Let's Play 
Construction: we made cardboard tube tunnels to roll balls of play dough down. Miss 20 months loved repeatedly rolling the play dough balls down the tubes saying 'weeee' and 'yay' when they came out the other side.
Let's Explore 
Playing with play dough can also provide kids with opportunities to practise their problem solving skills when faced with a challenge. Miss 4 used the cardboard tubes (toilet rolls) as a cookie cutter but had trouble getting the play dough circle out without breaking the circle shape. She ended up using a narrower cardboard tube to push through the toilet roll tube which pushed the stuck play dough out.
Let's Learn 
Play dough promotes imaginative play: Miss 4 and her play date buddy ended up playing with toy cars and pretending they were lifting heavy rocks and bricks.
If you would like to read more about imaginative play and how to encourage it click on the image:
What is Imaginative Play and How to Encourage it?
The importance of playing with play dough:
Play dough provides many wonderful learning opportunities but is very well known for building fine motor skills. Play dough is a great tool to build and develop strength and control in the hands, fingers and wrists. This strength and control supports the use of writing tools, scissors and the ability to throw and catch objects.
Playing with play dough and the repetitive moulding and manipulating it gives fine motor muscles a real work out!!