Playing with felt encourages many great learning experiences as it is a sensory toy that involves touching, feeling and manipulating. It promotes creative play, the imagination and role play through story telling. It also encourages skills development with hand & eye coordination, fine motor skills, spacial awareness and exploration.
Felt is a cheap and easily accessiable material that can be cut and created into different shapes or characters. It is a wonderful tool to learn with while makinng it fun.
Here are two simple and inexpensive DIY ideas for making your own felt boards at home.
CHALKBOARD EASEL CONVERTED INTO FELT BOARD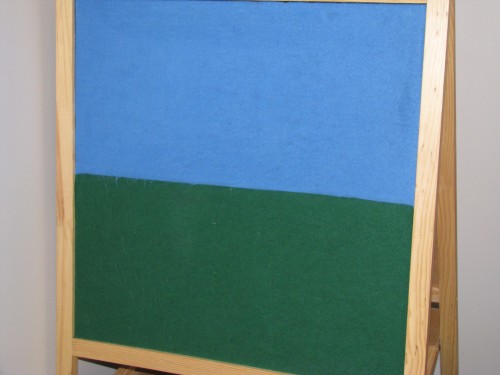 Chalk Board Easels are the perfect height for little people to reach making them great for turning into a felt board. This is done by cutting some felt into the correct shape and size to fit the board. Using a light layer of PVA glue, glue the felt onto the board and trim off any over-hang or excess with a stanley knife. I chose to use blue and green felt to symbolise the sky and the landscape.
Tip: Do not use too much glue as this will soak the felt material making it hard and difficult to place other felt pieces on top. It reduces the friction.
ART CANVAS CONVERTED INTO FELT BOARD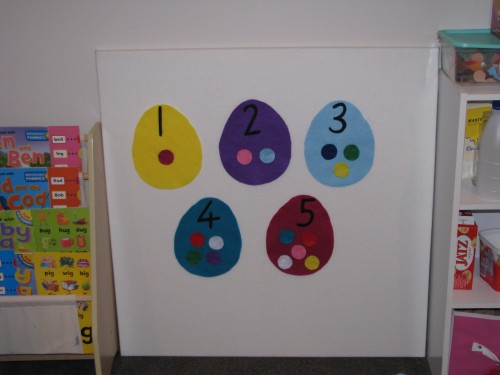 To make a larger felt board which allows more children to play with it at the same time is covering a light weight art canvas with felt material. You can purchase large sheets of felt from most fabric shops and the canvas from most craft stores. I have chosen to use a light coloured felt as it is a more versatile colour and most of our felt toys are brightly coloured. To attached the felt to the canvas I folded the felt over the edges and stapled it on. As I folded, stapled and moved around the outside of the canvas I gently pulled the felt to make it tight without over stretching it, just enough to make it firm but not floppy.
<CLICK HERE> for Felt Board Activities