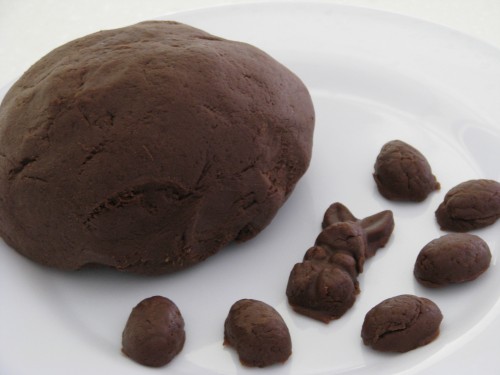 This Chocolate Play Dough Recipe looks and smells just like the real thing!
It is a really easy recipe to follow with all the main ingredients can be found in the pantry. I have taken our Basic Play Dough Recipe and altered it to create this fun Chocolate Play Dough in time for Easter.
To heighten the sensory play experience with the chocolate play dough I have added some Imitation Chocolate Essence to the recipe. This is optional but I totally recommend it as it smells really yummy!
You will need
1 Cup Plain Flour
½ Cup Salt
½ Cup Cocoa Powder
2 Teaspoons Cream Tartar
1 Cup Water
50ml Imitation Chocolate Essence
2 Tablespoons Oil
How to make it?
1. Pour all dry ingredients, flour, salt, cocoa powder and cream of tartar into a saucepan.
2. Add oil, imitation chocolate essence and water to dry ingredients.
3. I use a whisk before heating as I find this helps remove lumps and blends the ingredients.
4. Cook over medium heat constantly stirring until it becomes a sticky thick blob.
5. Then turn out onto a clean surface and knead into a smooth blob. Be careful it will be hot.
6. Store in a plastic zip lock bag or air tight container.
Other Notes
* Imitation Chocolate Essence can be found in most major shopping centres in the cooking isle with the food colouring, etc.
* The oil in the recipe keeps the play dough moist and from drying out. It is also great for giving the chocolate play dough the shining appearance.
To download and print your very own copy of this recipe click here: Chocolate Play Dough Printable Recipe
For fun play activity ideas with the Chocolate Play Dough click here: Chocolate Play Dough Easter Eggs