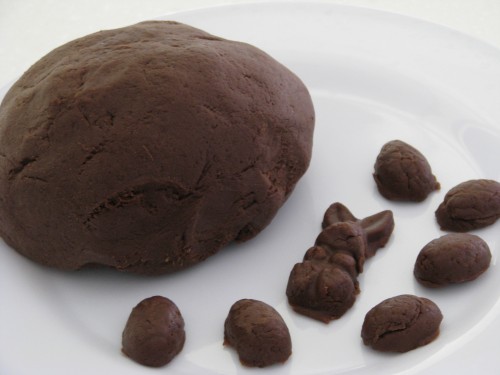 This Chocolate Play Dough really looks and smells just like the real thing! YUM!!
The chocolate aroma has filled our house this week as we have played with the chocolate play dough every day so far, we even had this play opportunity set up for Miss 4's play date with her kindy friend.
As we plan to make homemade chocolate Easter eggs for gifts using our Easter chocolate moulds, I thought I would link this in with a bit of role play and using our chocolate play dough.
My girls and their kindy friend found this a lot of fun as they made their very own chocolate Easter eggs using the moulds and chocolate play dough.
What you will need?
You will need chocolate moulds and chocolate play dough. You can download and print the recipe here:
Chocolate Play Dough Printable Recipe
Let's Play 
Making chocolate play dough Easter eggs and other Easter themed pretend chocolates with the moulds, exercising fine motor through pinching, pressing and manipulating the chocolate play dough.
Miss 4 making a large chocolate Easter egg by pressing the play dough around the edges of the mould. When the play dough chocolate egg was pushed out of the mould, it even had the patterns of a really Easter egg.
Finding other ways of using the chocolate moulds with the play dough – a stamp! Gently pressing and pushing the mould into the chocolate play dough to reveal egg shapes and other patterns.
Exploring further and experimenting with new ideas – almost like the real thing, chocolate Easter eggs made with chocolate play dough.
Let's Learn 
Learning benefits of playing with dough:
Spatial awareness – experimenting with shape and space
Creative Thinking and concentration skills
Oral language development – practising and experimenting with new words
Building up their fine motor skills and coordination
Encourages imagination and creativity
Did I mention the Chocolate Play Dough smells soooooo good?? Miss 20 months certainly thought so!!!
It really does smell just like real chocolate – YUM!!