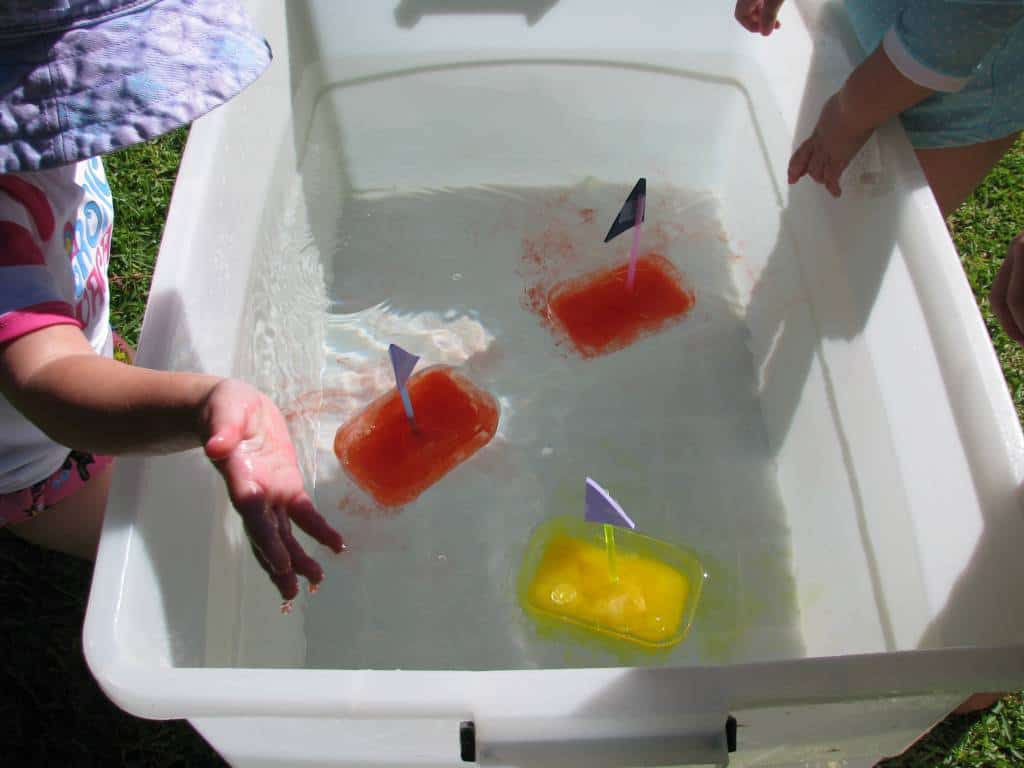 Ice Boats Water Play:  Water and ice are great for sensory play with kids as it engages children into a world of exploration and wonder.  To make our water and ice sensory play experience a little more fun we turned the ice blocks into boats with a few simple materials.
There is so much science to be explored with water and ice!
What you will need?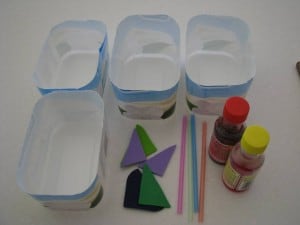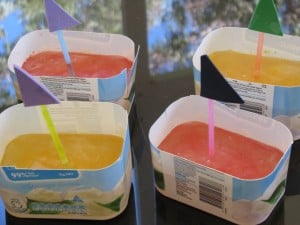 You will need food colouring, straws, sticky tape and craft foam for the sail as it is water proof and light.  You will also need containers for freezing the water in; I reused some empty yoghurt containers and just cut the height down to size.  I added yellow and red food colouring to the water to make this sensory play a bit more interesting.
You can basically use any materials to make the sail for the boat but do keep in mind that it needs to be light and well balanced with the size of the ice boats as the sail can flip the boat upside down if it is too heavy.
I added the straw sails to the ice boats when they were partly frozen. You could alternatively use blu tac or plasticine at the bottom of the container when adding the water.
Let's Play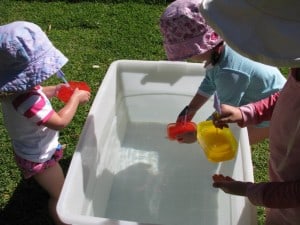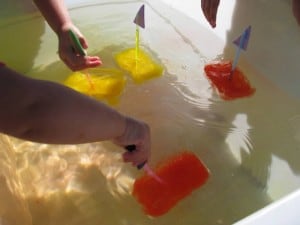 My kids were very excited about playing with their ice boats.  They helped to fill a large container full of water and set their boats to sail.
This activity is great for encouraging countless science related discussions about ice and water, floating and sinking, liquid and solids. Exploring questions such as why do you think water expands when it is frozen? Why do you think ice floats on water?
Let's Learn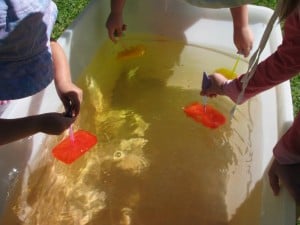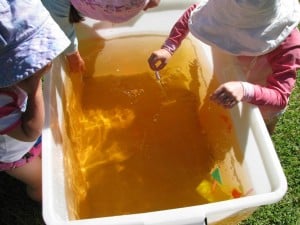 Watching in amazement as the ice boats melt and mix the red and yellow food colouring together.  This is a great way of also looking at colours and mixing them together to create new ones.   I would love to use blue and yellow next time!!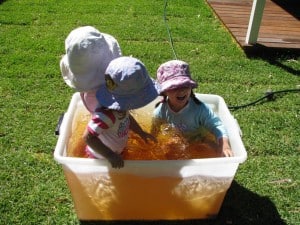 When the ice boats were all melted – my kids all jumped in!!  That is what sensory play with water is all about?  The water was a tad cold from the ice though!
A bit of factual information:
Why does ice float on water?
Without going too deeply into the chemistry of why ice floats on water, here is a very basic explanation:
When water is frozen, it increases in volume or expands and decreases in density, which makes it much lighter than its liquid form. As water becomes colder and begins to freeze there is a change in the unique molecular structure of hydrogen and oxygen that allows it to float.
A great follow on activity to this would be Painting with Ice – Paint Pops
I am sure you all understand why I am mentioning this but I cannot stress this enough: please always supervise and watch children when playing with water!