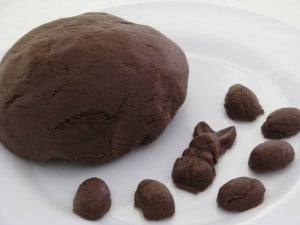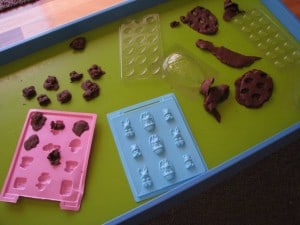 Recently I posted an article about making Chocolate Play Dough Easter Eggs using chocolate moulds and homemade Chocolate Play Dough. The fun did not stop there and we went on to making and playing creatively in other ways with this yummy play dough. Here are some other ideas for using the chocolate play dough.
Chocolate Play Dough Muffins
My girls made Chocolate Play Dough Muffins using patty pans (ours patty pans are silicone so we can re-use them). Using whatever my kids could find in our play dough tools bag they went about cutting, stamping, squeezing and decorating their chocolate muffins. A great way to explore creatively and imaginatively!
Box of Chocolates
I have been saving up these empty boxes of chocolates from Valentine's Day; I always knew they would come in handy to encourage creative and imaginative play. My girls had so much fun pretending to make their very own box of chocolates! They almost look too real!!
Other useful posts (click on the highlighted parts):
How to make Chocolate Play Dough? – Chocolate Play Dough Recipe
Playing with our Chocolate Play Dough – Chocolate Play Dough Easter Eggs