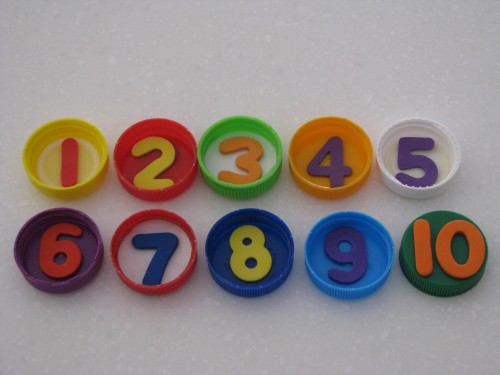 These Homemade Number Stamps will make learning your numbers FUN for kids as they can make endless paintings of numbers prints and sing-a-long as they learn and play!
The Number Stamps are low cost, require very little materials and are super easy to make!
What you will need?
You will need paint, sponges, 10 milk bottle tops, PVA craft glue, paper, clean meat trays and foam numbers.
I purchased our foam numbers from our local craft store and one side has a sticky backing which you can peel away. I glued the non-sticky side down onto the flat part of the bottle top to show the numbers reversed. The numbers need to be reversed because when you turn the stamps face down to stamp they will appear the correct way. I also placed the numbers on the inside of the bottle top to demonstrate to the kids the correct way to hold the stamps when using them.
If you cannot get hold of these foam numbers from the craft shop, you could also make these number stamps by cutting up kitchen sponges into the number shapes to fit onto the bottle top.
Tip: Placing the paint onto the sponges in the meat trays will avoid excess paint being applied to the number stamps and transferred onto the paper which can spoil the number print. The sponge absorbs the paint and when pressed it applies just enough paint to the stamp to create a clear print onto the paper.
Let's Play 
Exploring the number stamps in their own individual ways: Miss 5 counted backwards, made new numbers by joining two of the number stamps together and counting onwards from 10. Miss 4 pressed the stamps in order from 1 to 10 and then randomly stamped the numbers around the page. I showed Miss 21 months first how to hold and use the number stamps and then she happily went about pressing the different stamps around her page.
We also painted some pages using only one number which we plan to use later for some games and charts. We sang and altered a song to promote further learning and memory of the numbers as my kids stamped them into paint and onto their paper.
Put a 'five' over here and a 'six' over there
Put a 'four over here and a 'two' over there
There are lots of different numbers everywhere, everywhere
It's a numbers kind of day!
Let's Learn 
The milk bottle tops are the perfect size and shape for little fingers to grip and pick up.
Benefits of Painting with Homemade Number Stamps:
These number stamps are so much fun and while kids are having fun they are also unintentionally learning and developing skills at the same time.
Fine motor skills- strengthening little muscles.
Hand and eye coordination- watching and doing and coordinating these actions.
Numeracy – becoming familiar and learning the shape of numbers.
Numeracy – naming and memorising numbers.
Other fun Number Activities on Learning4kids: