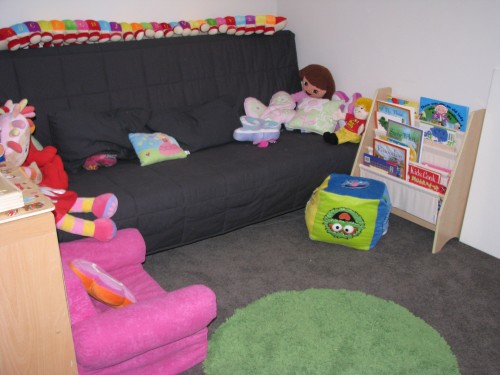 Today the kids and I moved the playroom around and it made me realise that I hadn't even published the last photos here on learning4kids. I thought I would do this before I would share the next big shift around that we have done for the start of school holidays.
Lately the toy kitchen had been getting a bit neglected, so I wanted to breathe some new life into it by setting it up using pretend and real food and empty food packages to encourage imaginative play. We put coloured pompoms into empty jars and bottle to symbolise juice and other drinks. The milk bottle has white pompoms in it; the box of Jatz has cut up circle sponge shapes for crackers, pop sticks for bread sticks and sponges for bread. The empty cereal box is filled with plastic milk bottle tops and a small milk jug filled with white rice. We provided lots of utensils and bowls for mixing and stirring.
Related Posts:
What is Imaginative Play is and How to Encourage it?
Pretend Play Kitchen with Real Food – coming soon!
Our toy kitchen has been set up in the corner of the room with a table and chairs
The last playroom set up had an array of different toys sitting upon the shelves but this time around I wanted to encourage more play with puzzles and packed a lot of the toys into a large box. We are used the box as a table by throwing a cloth over the top and set up toy cars and tracks on it, you can see it in the photo below. Packing toys away and bringing them out again later, ignites a whole new interest in them for kids.
Related posts:
Why Puzzles are Important for Learning?
This playroom shift around was also inspired by the upcoming Easter celebrations, therefore we set up our felt board and Easter Numbers felt pieces.
Previously our white book shelf had been used as a writing/drawing station and to encourage new interest we set it up as a dolls house and placed all the wooden dolls furniture and other pieces into the storage rack for easy access.
Related posts:
It was the start of autumn when we last changed the playroom around which inspired us to incorporate some autumn leaves. My girls decorated their Paper Mache Tree with real leaves they had picked up on a walk and I also pinned some to a curtain which we used as a room divider. The curtain has been threaded through a string which we use to display craft work.
Related posts:
How to Make a Paper Mache Tree
Our next Playroom Ideas post has been set up around the theme of NUMBERS. We have so many new and exciting ideas to share with you!!
I would love to hear your fabulous ideas!!