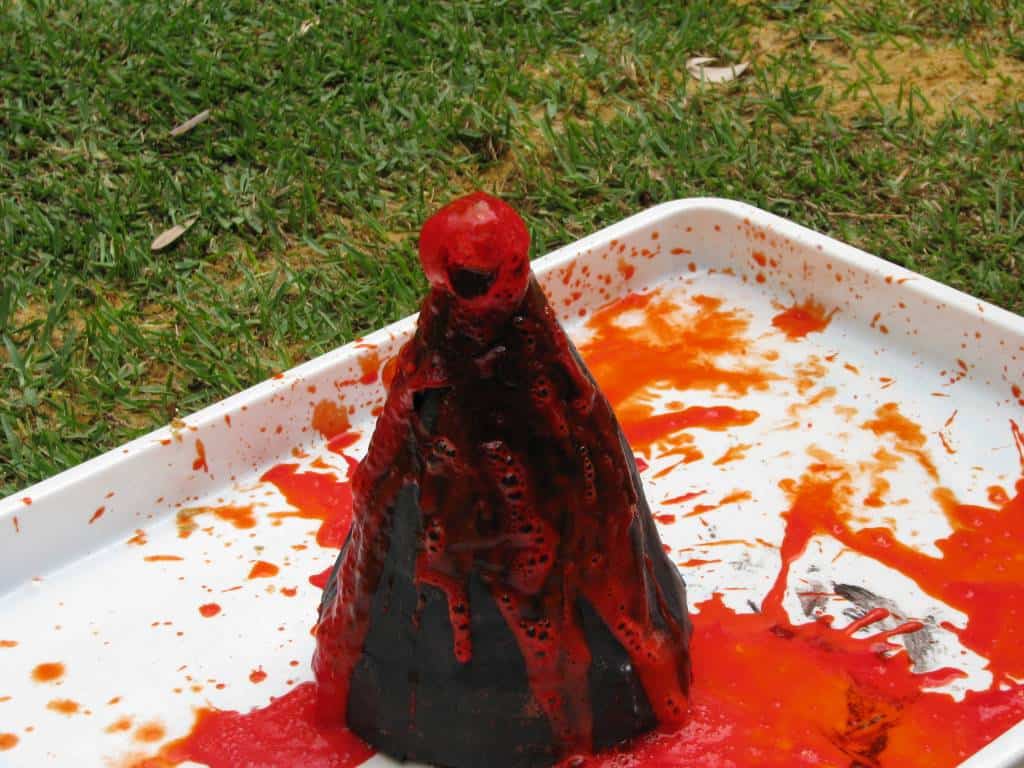 Watching a homemade volcano erupt is a very exciting experience for young children as they watch and learn about the amazing power of these geological formations.
Making your own homemade volcano is really simple and requires basic material that you can find around the home.
Recently after reading a non-fiction book about volcanoes and earth quakes, it aroused an interest particularly about volcanoes with Miss 4 and 5.  There was a number of questions and some misconceptions so we went on to explore these questions and then onto making our own homemade volcano.
What you will need?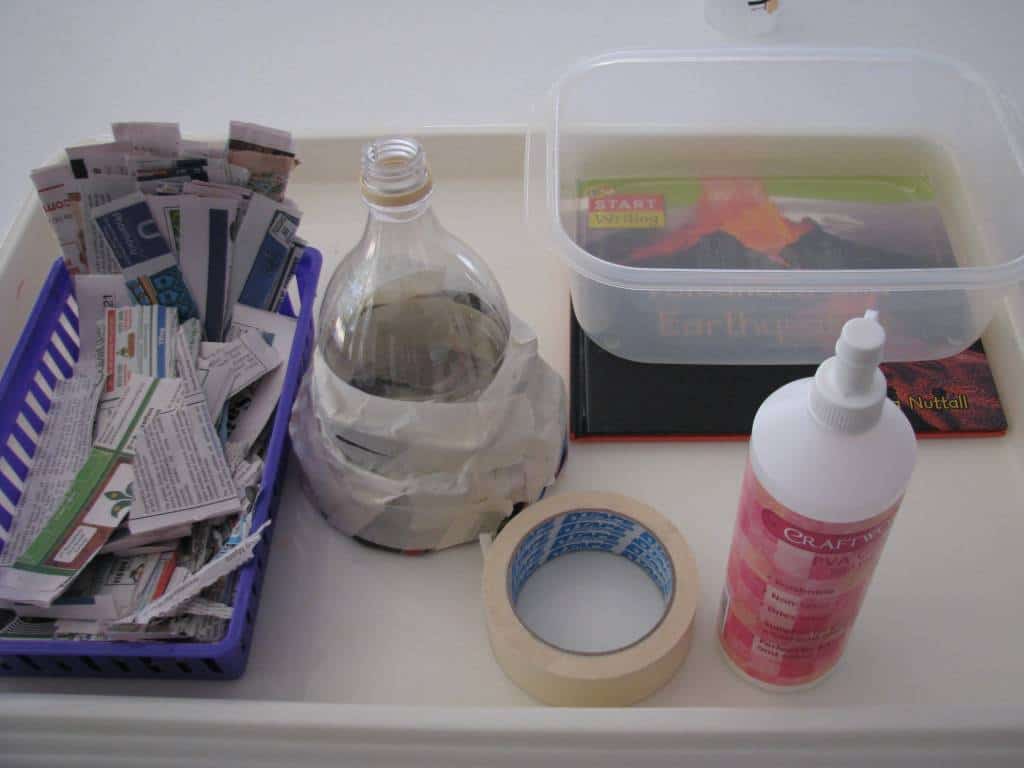 You will need an empty plastic bottle (this is 1 litre bottle), newspaper torn up in strips, PVA craft glue, masking tape and a container for the water and glue mixture.
To make the lava to mimic that of a real volcano you will need bicarbonate soda, red and yellow food colouring (or orange) and white vinegar.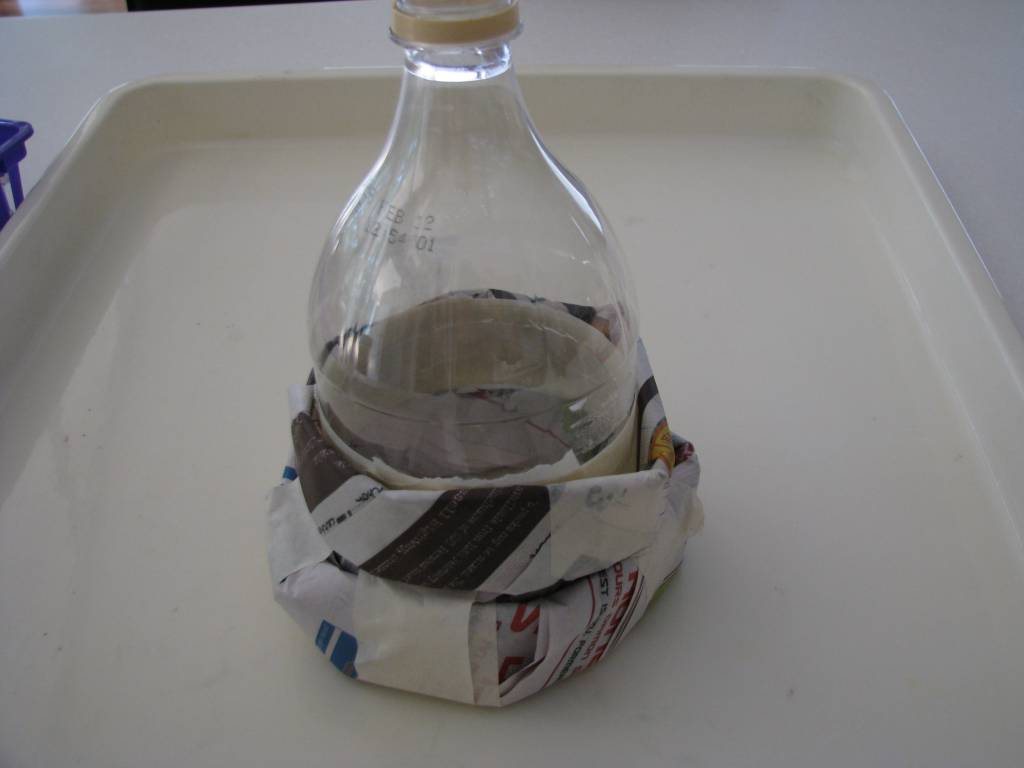 To make the basic shape of a volcano I cut the middle of the plastic bottle out and then overlapped the two ends together securing it with masking tape.  To give the volcano a more pyramid/mountain shape I then rolled newspaper into a tube shape and wrapped it around the base of the plastic bottle and securing it all with masking tape.
Let's Glue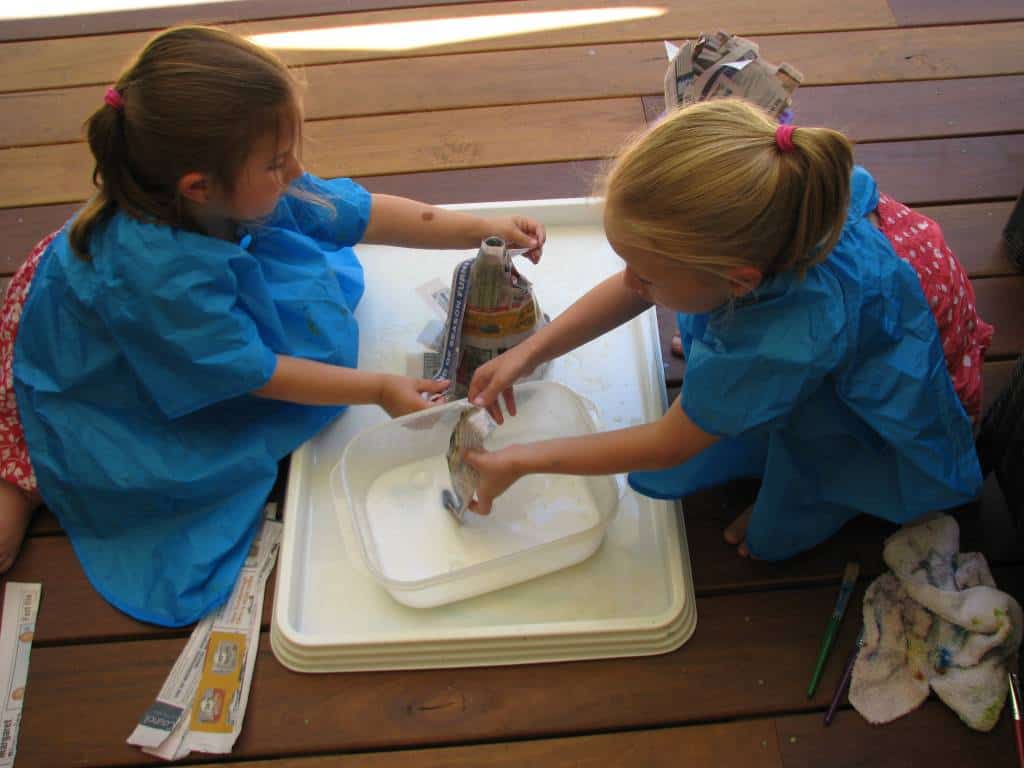 Time to get messy: applying Paper Mache to our volcano using small strips of newspaper dipped into a gluey water mixture. We also folded a small amount of newspaper into the opening of the bottle but making sure there was enough room to add our bicarbonate soda and vinegar later.
Tip – keep an old towel handy for the kids to wipe their hands on.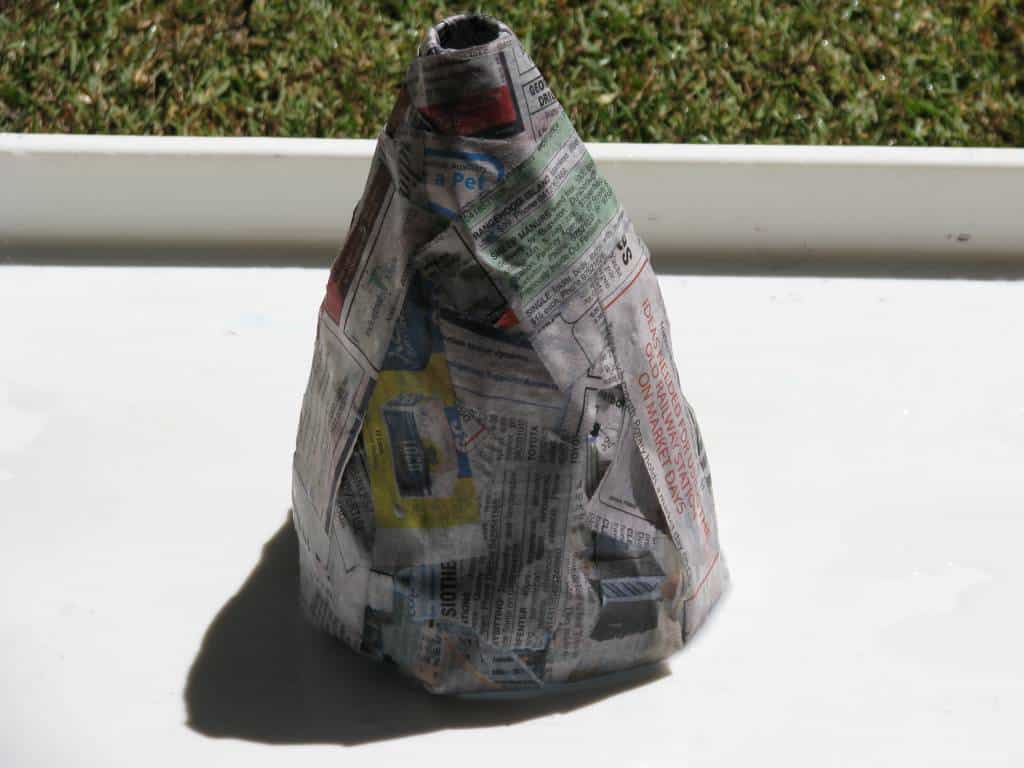 While we were waiting for the paint to dry we had a practice run to see how much bicarbonate soda and vinegar would be needed for the homemade volcano.   To give you a bit of an idea, we used 4 tablespoons of bicarbonate soda and 1 cup of vinegar mixed with some red and yellow food dye.
Let's Paint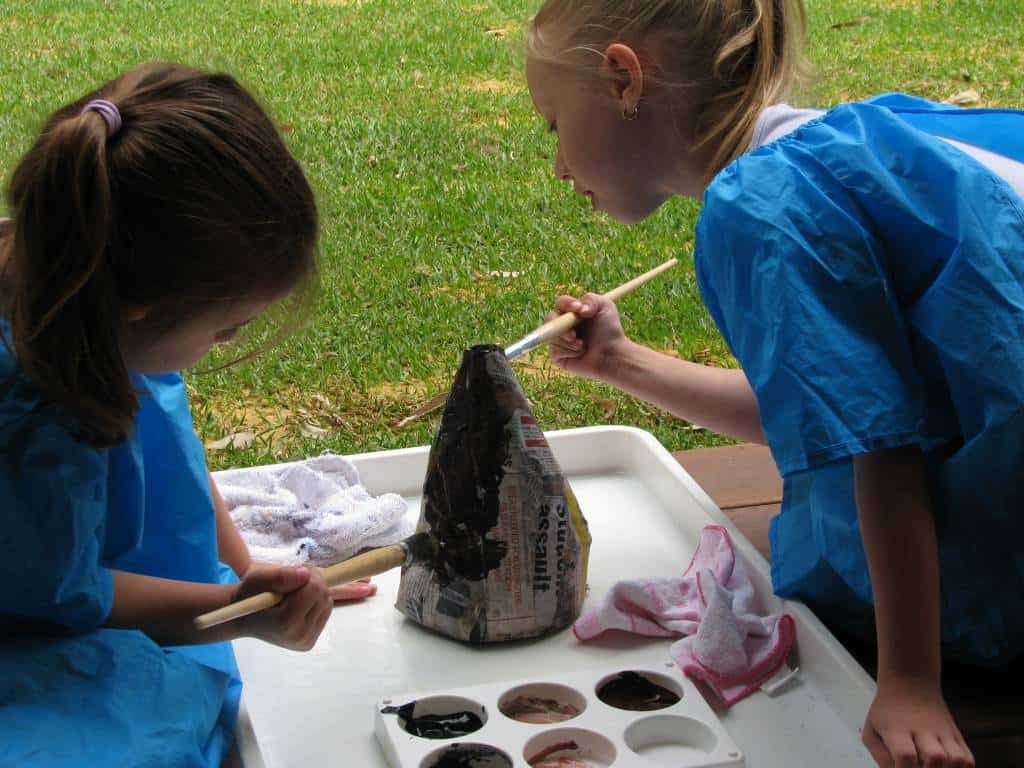 When the Paper Mache was dry, Miss 4 and 5 set to work to paint the volcano.  We had watched a few videos on You Tube about volcanos and it was decided that the volcano needed to be black, dark grey and a little bit of brown.   
Let's Play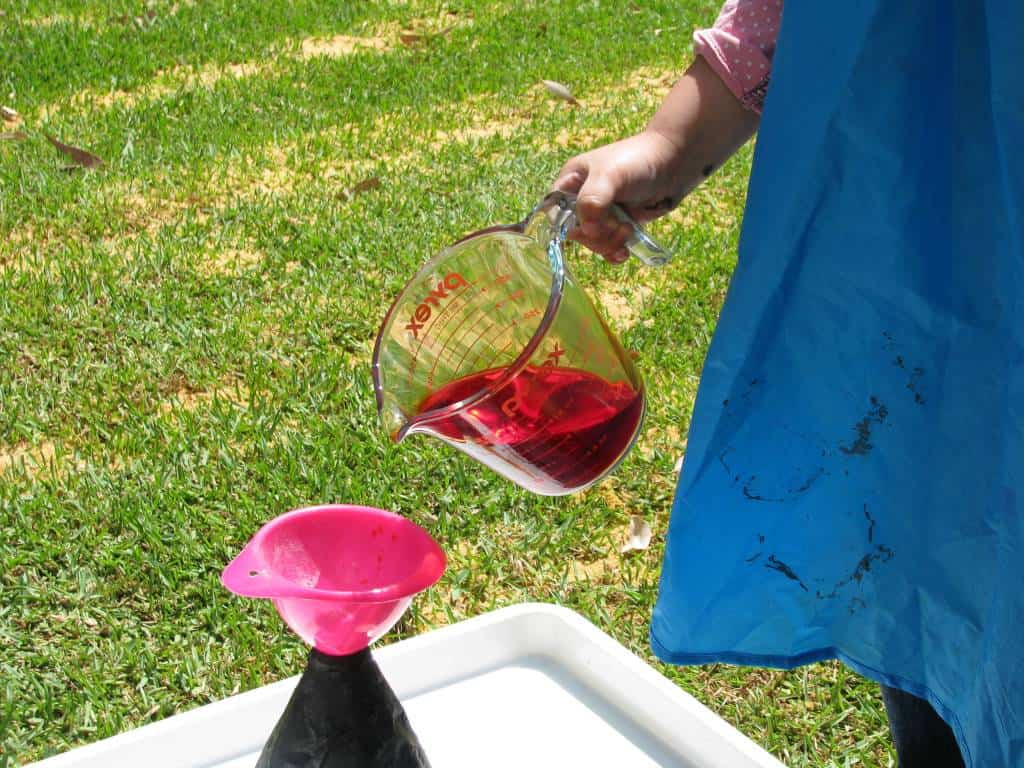 Sifting the bicarbonate soda into the funnel and about to pour in the vinegar…..you have to be super quick to get the funnel out.  Miss 5 was standing by ready to grab it after Miss 4 poured in the vinegar.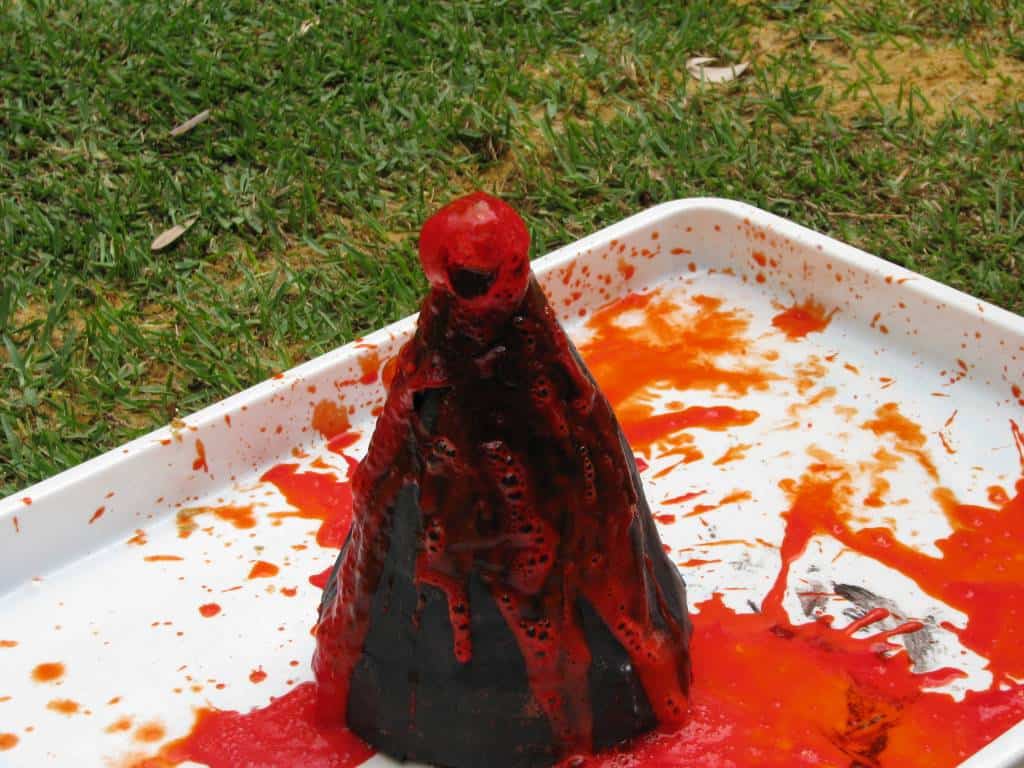 Our homemade volcano fizzing and frothing as the bicarbonate soda and vinegar react together.
Making a homemade volcano is a fun and simple process that kids will take on a sense of pride, ownership and achievement of what they have accomplished.  All this while learning new things and practicing some basic skills with an almighty eruption at the end.  We repeated the eruption 3 times!
Some Simple Facts About Volcanoes
A volcano is a mountain that erupts.
Rock under the earth's surface is so hot that it melts.  This melted rock is called magma.
Erupting magma is called lava.
Volcanoes become bigger every time they erupt as the lava cools and makes a new layer of rock.
Volcanoes can erupt under water and form new islands from the cooled lava.
Volcanoes can be found on the moon and other planets.
There are more than 500 active volcanoes on Earth.
More Play Ideas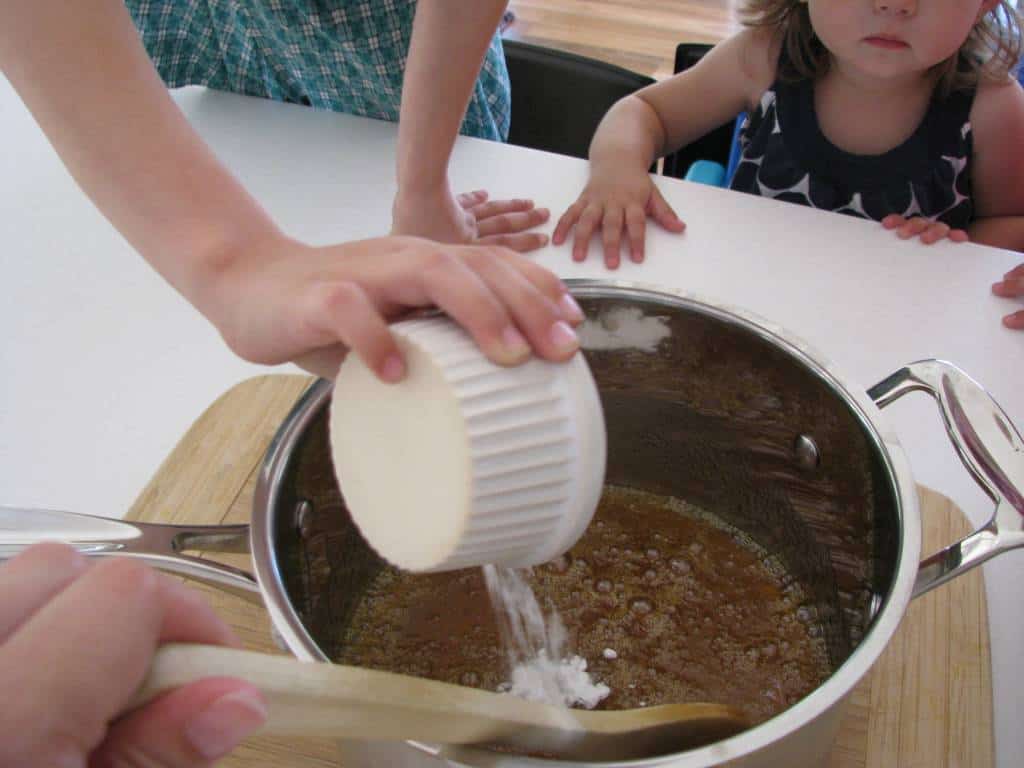 As a result of this activity, my kids were very intrigued about how bicarbonate soda and vinegar react together –  Here is an activity to extend this learning through making Homemade Honeycomb.  Click on the image to see the full post!
Some Great Books About Volcanoes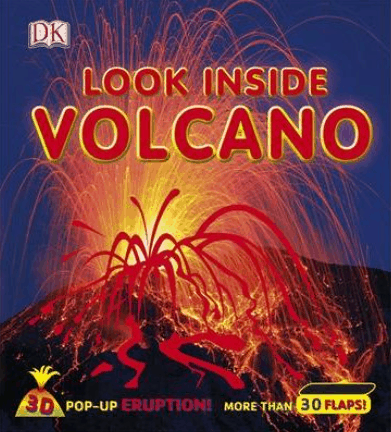 The Best Book of Volcanoes by Dr Simon Adams