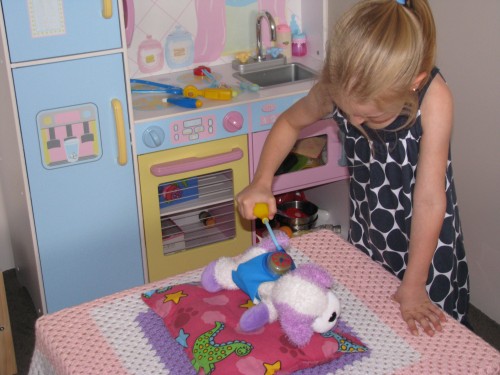 Imaginative play would have to be one of my most favourite kinds of play. I love how children can freely explore an imaginary world and benefit so much from it. I cherish their imaginations and the gorgeous stories they come up with.
Today I am sharing with you our imaginative play Vet Hospital and some simple ideas for setting one up in your home to encourage this play.
You can find out more about what imaginative play is and how to encourage it with kids by following the link – What is Imaginative Play and How to Encourage it?
Some Ideas for Setting Up: 
Involve the kids in setting up an area for their imaginative play; I always find that they have the best ideas on how it should be done. It is a great way of bouncing ideas off one another to create new ones! Kids also don't mind if they use something to imitate something else such as if you do not have a toy phone, a brush for a pretend phone will do.
Some other ideas on setting up a Vet Hospital; my kids emptied their toy shelves and used each cube as a sick bed/bay for their stuffed toy animals with a small blanket or pillow and bowl of water. We even had a fish tank (plastic tub) with sick fish and a turtle in it. We also included our toy kitchen as a medicine bench (as the kids called it) which had pretend pet food, doctor's props such as stethoscope, toy syringes and blood pressure pump.
Let's Play 
Every Vet Hospital needs an examination table which has been set up using a cardboard box with a blanket thrown over the top and a small computer for the assistant to enter information about the sick patient. My girls had seen this once before when we took our own pet to the vet.
Let's Learn 
Kids love to pretend and the imaginative play ideas are endless with a Vet Hospital – here is Miss 5 giving pretend medicine to the sick dog and also feeding the sick animals.
Play along and bring your very own pretend sick pet to your child's Vet Hospital – they will love it!
The learning benefits of imaginative play:
It provides opportunities for children to identify with the adult world. Practise and role play their understanding and interpretation.
Develop social skills: practising negotiation skills, turn taking and sharing. Provides opportunities for working out problems and experimenting with solutions.
Emotional development: Understanding and expressing their feelings through the re-enactment of certain experiences. Taking on roles that encourage discipline and empathy.
Encourages imagination: Children can be anyone and do anything in the pretend world.
Develop language skills: practising listening, looking and talking. Being spoken to and talking with other people, also developing an understanding of what is being communicated through body language such as smiles and nodding.
I also believe that imaginative play is a great way for children to escape, relax and unwind from their busy lives.