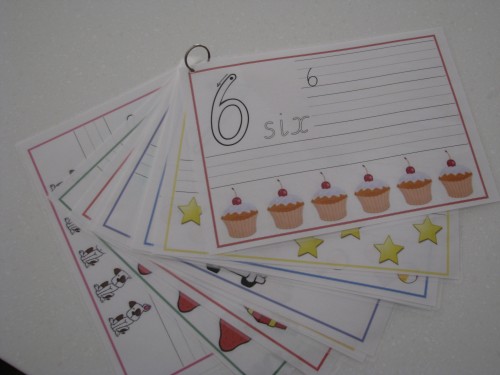 This is a great way for kids to practise writing their numbers!!
The Number Tracing Cards are a free printable that can be laminated to allow kids to draw on with a white board marker as it wipes away easily with a tissue. Kids can practise writing their numbers correctly and wipe it away and try again.
What you will need?
You will need paper, white board markers, the printable tracing cards (available to download and print below), laminating sheets and key ring hoop. You could alternatively use a shower curtain hoop or a curtain hoop as well.
It is totally up to you how you want to use these free printable tracing cards but to save on numerous printing, paper and ink then you may like to laminate the sheets of paper. By laminating the sheets of paper you can then punch a small hole in the corner and bind them together with a hoop ring. This will keep the booklet together and help to easily turn the pages.
Also by laminating you can draw on it with a white board marker and then easily rubs it off with a tissue.
Tip: To give the laminated sheets a really good clean, use nail polish remover.
Developing a good pencil grip is one component of good handwriting skills as it helps with writing legibly, speed and comfort. Most children naturally develop a pencil grip that is comfortable for them but it is also important in the early development stages to encourage good writing habits – pencil grip. The photo will give you a bit of an idea on a good pencil grip but do keep in mind that the whiteboard marker is a thicker pen.
Here is a bit of a guide:   
The index finger and thumb 'pinch' the pencil about 1-2cm from the tip forming an open space where the pencil will rest slightly on the hand.
The middle, ring and little finger are bent and rest on the table. The pencil may also rest on the middle finger.
The pencil is held in a stable position between the thumb, index and middle fingers.
Resting the other hand on the table or paper is also good for control and stability.
Pencil grips are easier to change in the early childhood years than trying to change an awkward grip pattern later.
Let's Learn 
The Laminated Tracing Number Cards has a few options for practising writing numbers. To start, begin drawing the number inside the bubble shape number starting at the small dot and following the arrow. Then practise writing the number by tracing over the number that is written on the dotted lines and then have a go writing the number repeatedly on your own on the lines provided. You will also notice that there is a written version of the number; kids can learn the written form at the same time by tracing over the letters.
Number Rhymes can help:
Number 1: A straight line one, it is fun.
Number 2: Around and back on the railway track makes, two, two, two.
Number 3: Around the tree and around the tree, that's the way you make a three.
Number 4: Down and across and down some more, that's the way you make a four.
Number 5: Short neck, big round tummy, hat on top…..five looks funny.
Number 6: Down to a loop, six rolls a hoop.
Number 7: Across the sky and down from heaven, that's the way you make a seven.
Number 8: Make an "S" do not wait, go back up and make an eight.
Number 9: A loop and a line makes number nine.
Print your own copy here:
You can print a copy in colour or in black & white. The black and white copy can be coloured in by the kids to help personalise their very own tracing card booklet.
After printing, with a black fine liner draw on a small dot and arrow for the starting point on each number and also draw an example of the number on the lines.
Click on the below links to download and print:
Printable Tracing Number Cards in Colour
Printable Tracing Number Cards in Black & White
Key things to remember:
Be patient it takes time to develop.
Form numbers by beginning at the correct starting point.
Encourage good pencil grip.
Available in our online shop: 
Click on the images