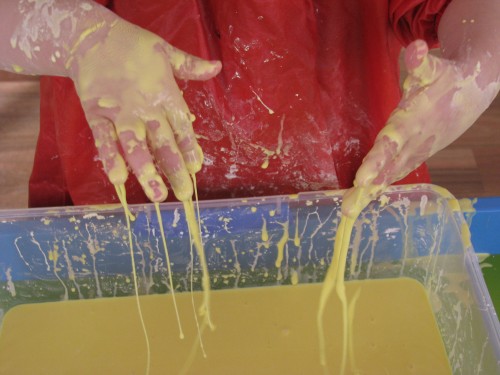 Sensory awareness goes hand in hand with creativity. Sensory play arouses children's imaginations, creativity and curiosity through exploration of texture, temperature and fun!
Gloop is an interesting mixture with a unique texture and is great for sensory play. It is also great for learning about the concepts of what a solid and liquid is.
What you will need?
You will need:
2 cups of cornflour
1 cup of water
Food Colouring
A large container or bowl
Place the cornflour into a large container and place a few drops of colouring into the centre. Have the water ready for your child to pour into the container.
Let's Play 
Mix the water into the cornflour and colouring. It will take some time to mix together but encourage your child to play with the gloop before it is mixed. What does it feel like?
Let's Learn 
Understanding Gloop – What's Is Happening? 
Solid or Liquid: Cornflour is made of lots of long, stringy particles. When water is added they do not dissolve in water, but they do spread themselves out. This allows the gloop to act both like a solid and a liquid. When you roll the mixture in your hands or apply pressure to it, the particles join together and the mixture feels solid. But if it is left to rest or is held up and allowed to dribble, the particles slide over each other and it feels like a liquid.
Get messy and have fun while learning!!
To find out how we played and explored our Gloop, click here to view the full post: