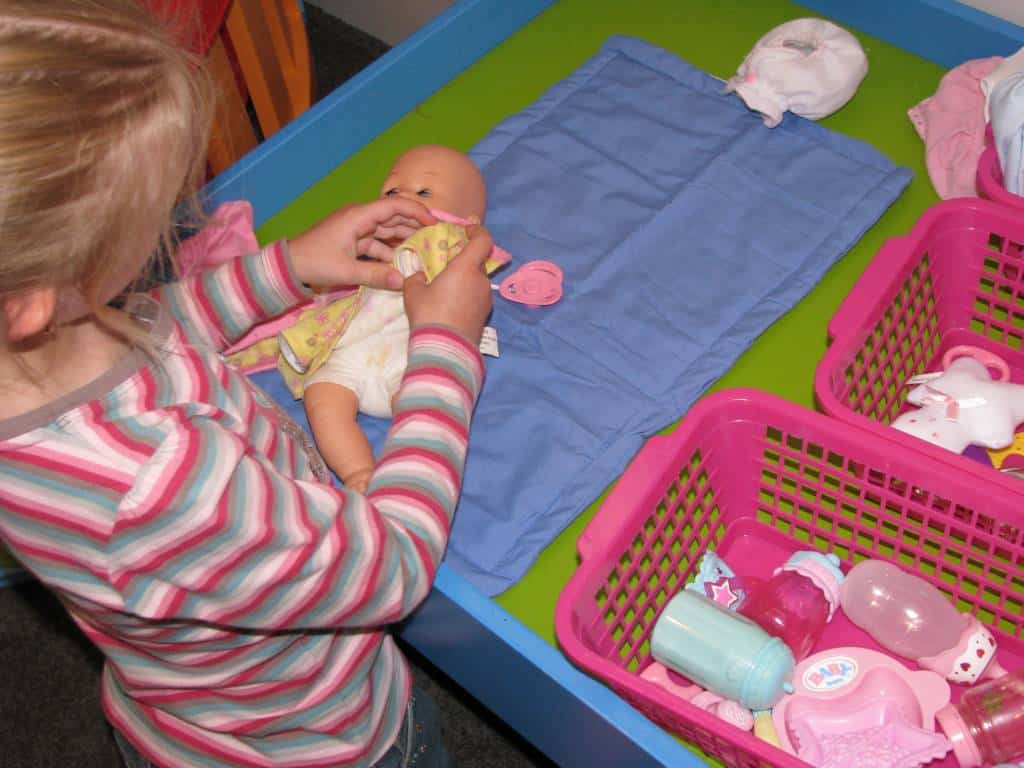 Setting up a Baby Care Home Corner encourages imaginative play and promotes many valuable life skills. I hope this post provides you with some ideas on setting up your very own Baby Care Home Corner.
This would be a fabulous imaginative play area to set up for families who are expecting or have a new baby and for children who have a younger sibling.
Some Ideas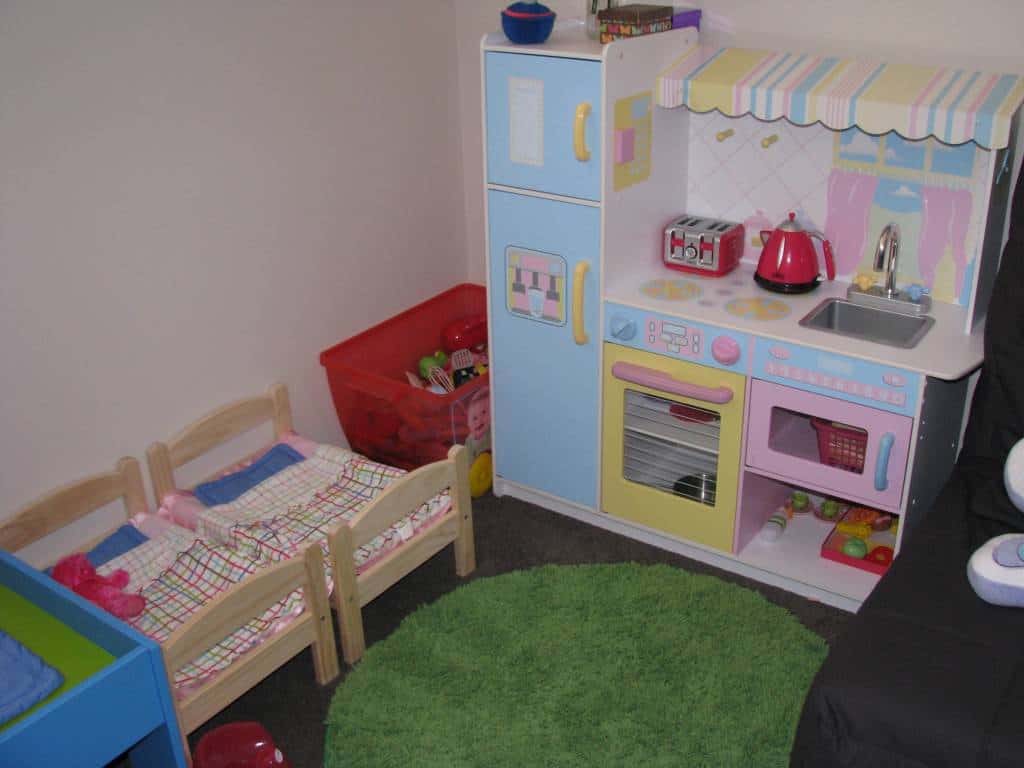 With a few little props, the rest is up to the imagination.  Setting up the scene with wooden beds and toy kitchen; tea towels for blankets and folded tea towels for pillows.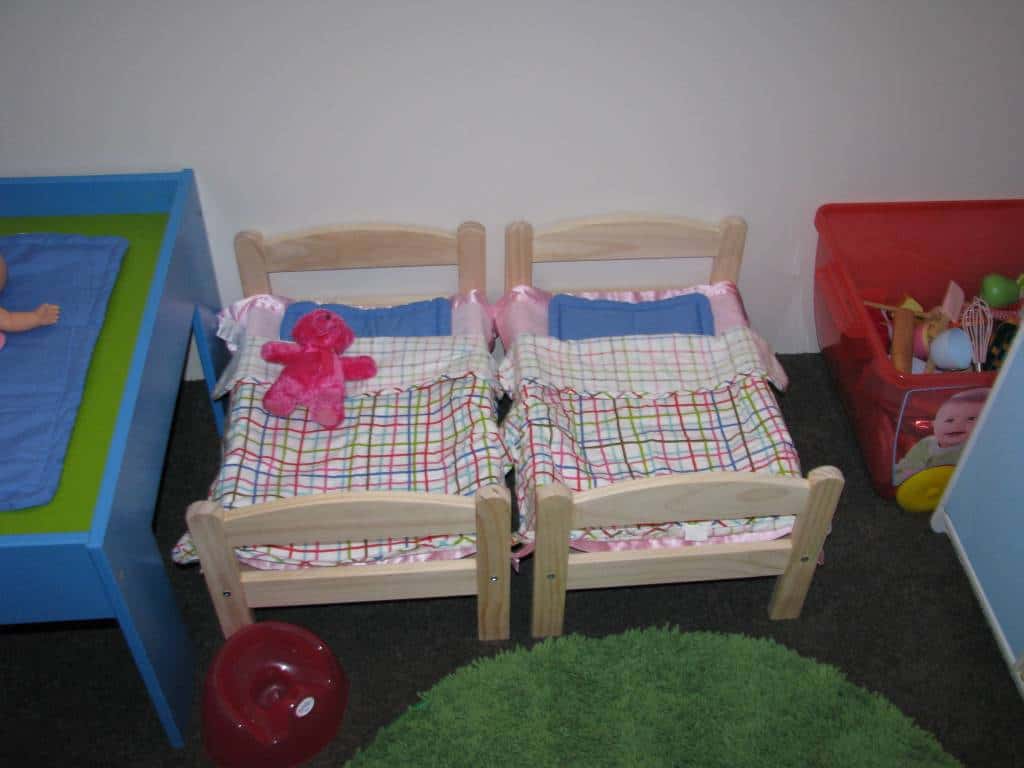 If you do not have little wooden beds, you can use pillows as the babies or dolls beds. The pillow case acts as the blanket or sleeping bag and the pillow as the mattress.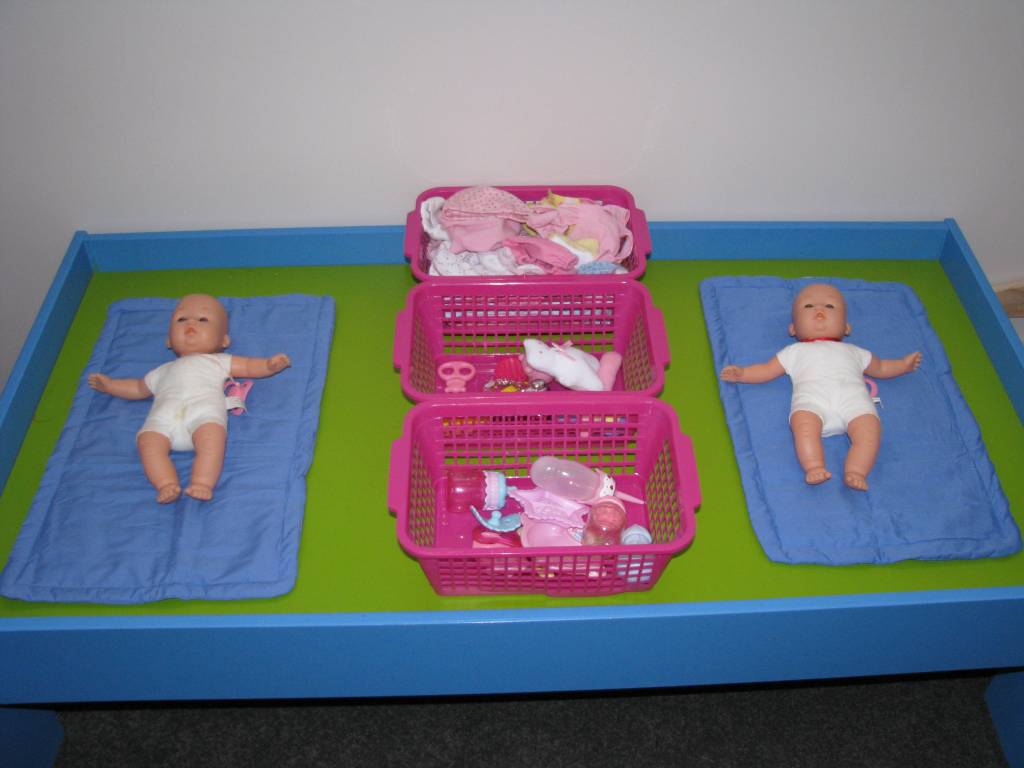 We also laid out a table with change mats and baskets filled with feeding toys, soft toys, dolls clothing and pretend nappies, cream and wipes, anything baby really. For the baby clothing if you got any baby clothes that you used with the kids tucked away somewhere, you could use these for dressing the babies with. Also if you have any small socks or bonnets, the kids love these too!
Kids really don't mind what props they have as they will improvise and pretend one object to be something else. That is the best part of imaginative play.
Let's Play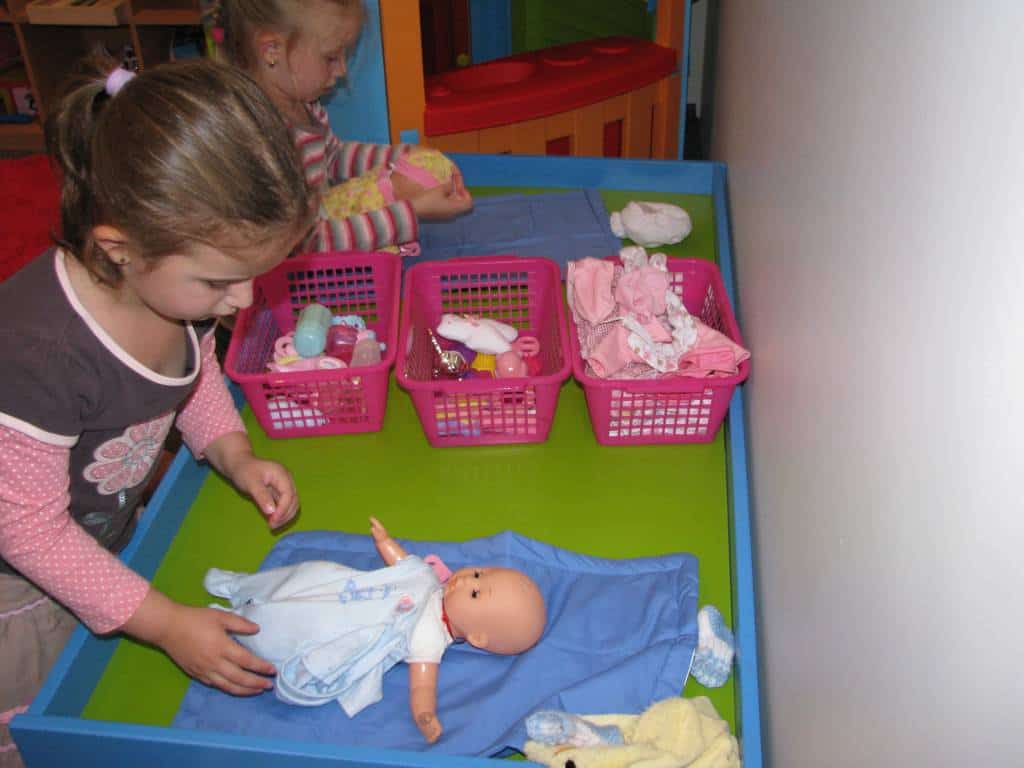 Pretend to wash the baby in the toy kitchen sink and dried her off with a towel, then dresses her.  Our play table was great to use for a pretend changed table.
Let's Pretend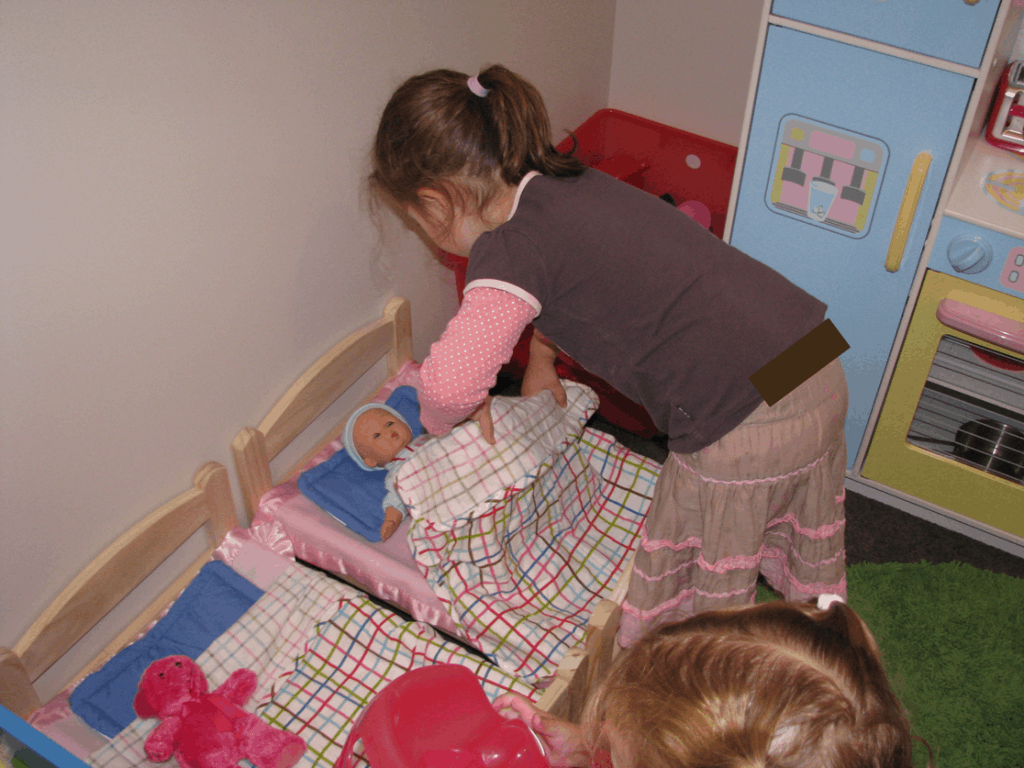 Miss 4 tucking her baby into bed with a small stuffed toy. These babies also had a bottle of milk, some dinner and were burped before being put to bed.
Imaginative play is a time for kids to role play and play out opportunities they have experienced or are interested in as they make sense of the world around them.  In the first photo you will see Miss 19months (at the time), just the top of her head carrying a toy potty, she was absolutely obsessed with it during her play as this was something we had been (and still are) encouraging with her.  This was an opportunity for her to practice and act out her understanding so far.
Let's Learn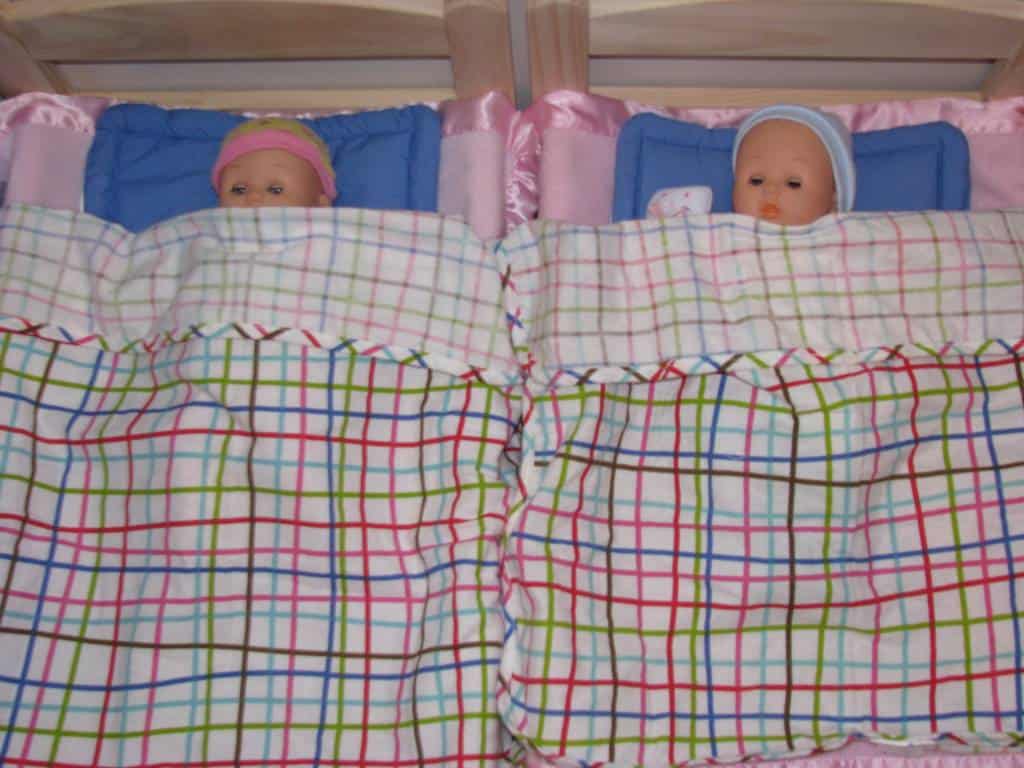 Learning Benefits of Imaginative Play – Baby Care Home Corner
Teaches empathy, kindness and respect towards others.
It provides opportunities for children to identify with the adult world.  Practise and role play their understanding and interpretation.
Develop social skills: practising negotiation skills, turn taking and sharing. Provides opportunities for working out problems and experimenting with solutions.
Emotional development: Understanding and expressing their feelings through the re-enactment of certain experiences.  Taking on roles that encourage discipline and empathy.
Encourages imagination: Children can be anyone and do anything in the pretend world.
Develop language skills: practising listening, looking and talking.  Being spoken to and talking with other people, also developing an understanding of what is being communicated through body language such as smiles and nodding.
I also believe that imaginative play is a great way for children to escape, relax and unwind from their busy lives.
Other Ideas
Wet Washing Hanging on the Line
Useful Links:
This link explains what Imaginative Play is and its role in learning. It also provides a list of ideas on how to promote imaginative play further.