Coloured Felt Ice Creams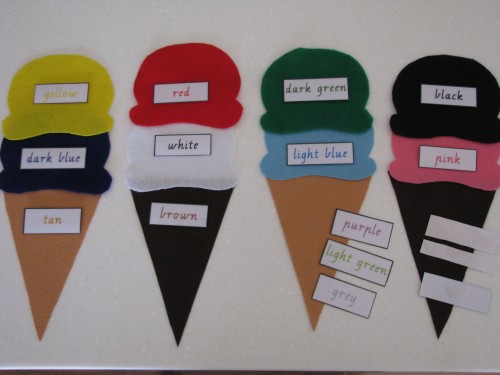 Making your own Felt Ice Creams while learning your colours!!
This is such a fun hands on activity for kids to promote the learning of colours while playing creatively and making felt ice creams.
This activity involves kids to creatively stack coloured felt ice cream on top of felt cones and then label the colours with Velcro cards.  Read on to find out more and print your own!
[h2 style1] What you will need?[/h2 style1]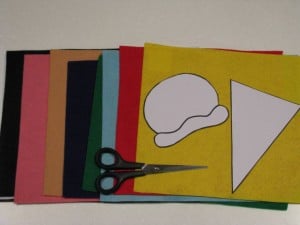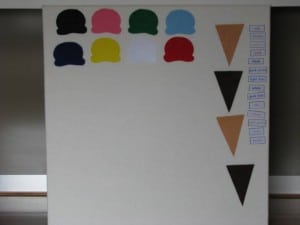 You will need an assortment of coloured felt sheets, sharp scissors, a felt board (or carpet) and the Printable Ice Cream Template and Colour Labels (available below).  The ice cream and cone shape printable can be used as a guide for tracing and cutting the shapes out in the felt.  I printed the colour labels, cut them out, laminated them and then placed Velcro dots onto the back (rough Velcro side only) which allows them to stick onto the felt board.
Tip: The colour labels are able to be printed in colour as the font is written in the colour of the word to match.  If you can only print in black and white then you can write over the letters in the colour that matches the word.  This will help with matching the word to the coloured ice cream.
Click here to download and print your own: Printable Felt Ice Creams and Colour Labels Template
Useful Links:  Simple DIY Felt Boards at Home
[h2 border style2] Let's Play[/h2 border style2]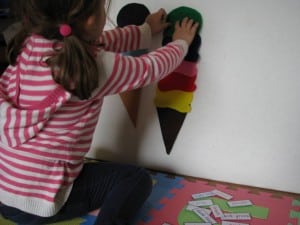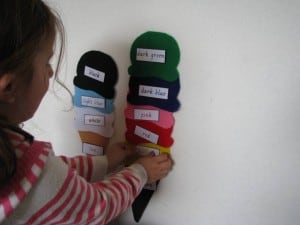 The fun with this activity is that kids get to play and pretend to make their own ice creams, layering the ice cream cones with how ever many or little coloured felt ice creams as they like.  Miss four made two felt ice creams but there were 4 cones available if she wanted to make more.  She played with and changed the order of her coloured felt ice creams before matching the colour labels.
This activity promotes reading even though the labels are written in the colour that it is, kids are seeing the written word and connecting the word to the colour.
[h2 border style3]Let's Learn [/h2 border style3]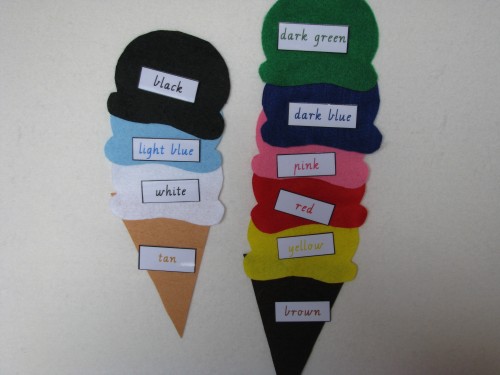 [h2 style1]Learning Opportunities [/h2 style1]
Literacy: Reading the written word with the colour.
Language skills: naming, labelling and discussions about what objects are made of certain colours.
Reinforce and extend learning about colours.
A sensory toy that involves touching, feeling and manipulating
Great for the imagination, make believe and role playing
Hands on learning
Fine motor development and hand – eye coordination
Spatial perception and exploration
Other Ice Cream Activities on Learning4kids: Imaginative Play Ice Cream Shop
[h2 style1]Available in our Online Shop [/h2 style1]
Bulk 100 Pack of Coloured Felt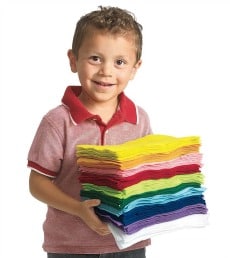 LIKE THIS POST
Come join the many playtimes here on Learning4kids, please enter your email address in the subscription box to receive updates right to your inbox!
3 responses to "Coloured Felt Ice Creams"