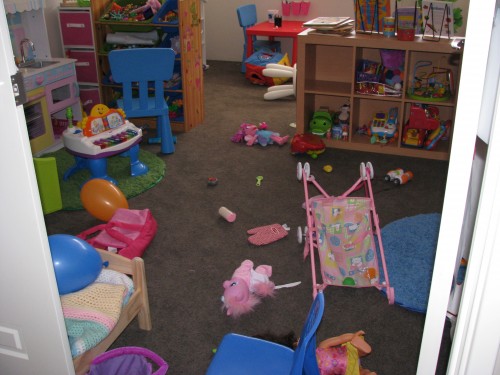 When our play room starts getting messy and I find it increasingly impossible to motivate the kids to tidy it up, I find this is a good time for a change around to spark a new interest. Involving the kids in the organisation of the room gives them pride and responsibility in looking after it.
Our new ideas for our play room!
The first photo is of the entry into the room as we have created a bit of a corridor and room divider with our book shelf.
We have used the back of the book shelf as a board for sticking up games and numbers with blutac. My girls move them around and rearrange them into the correct order. Miss 6 is learning about skip counting at school at the moment and this is an area for her to practise and reinforce her learning.
Our reading corner! I like to encourage a space to read and for quieter activities that is inviting and comfortable to sit and the books are easily accessible. Cushions, pillow, bean bags and throw rugs are also great for creating a reading corner.
Our cubby house has always been pushed up into a corner of the room and this time we thought we would bring it out to the centre of the room alongside our pretend kitchen to encourage imaginative play. We have also placed a props box next to the kitchen and cubby house to spark any new games and ideas for pretend play. A props box is a box filled with items to encourage imaginative play such as a doctor's kit, pretend phone or camera, blankets, etc.
This area provides a space for the kids to bring out toys, games and puzzles from the shelves and containers to play with. We have swapped our dolls house book shelf from a writing station to a dolls house.
Our storage shelves have separate games and puzzles in each container for the kids to lift the box and play with the contents. It is great for tidying up because once they have finished the toys go back in the box! We also have our felt board set up and one of the storage containers is filled with felt toys and characters for imaginative play.
Miss 6 had her birthday recently and we have placed the balloons from her party on top of an organza curtain which hangs up over the reading corner. It creates such an inviting environment to chill out and read a book.
I would love to hear and share you fabulous ideas!!