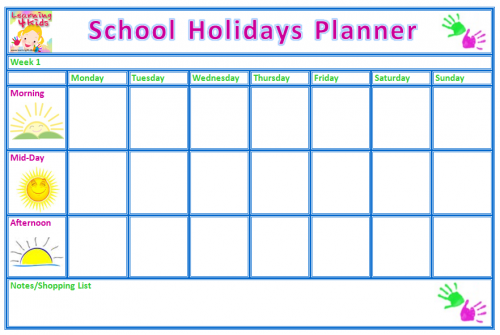 Here in Western Australia it has been a long 11 week term for us and my kids and I are ready for a break! Our friends in other parts of Australia started their school holidays nearly 2 weeks ago and as they plan to go back for Term 3, we are just starting to plan for 2 weeks off.
With the winter July school holidays, kids are generally more housebound with the weather. Even though we try to take every opportunity to go outside when the sun comes out, we need a few tricks and activities up our sleeve to help keep the kids entertained.
I thought I would share with you a free printable holiday planner that I use when planning ideas and activities to keep the kids entertained and stimulated. Here are a few ideas to get you started!
GIANT DRAWING
Join sheets of paper together with sticky tape to form a large canvas to lay out on the floor for drawing. Leave the paper out for days and watch as the drawings become more elaborate. Read more…..
RAINBOW SALT TRAY
Have fun drawing, writing and creating endless pictures with a Rainbow Salt Tray. When you've finish, shake it and start again! Read more……..
STICKY ART
Create a sticky canvas with clear contact stuck up on a window to create colourful pieces of art. Read more…….
INDOOR CAMPING
Camp out in the lounge room! Set up a tent, lay out some sleeping bags or even make a pretend fire to eat marshmallows off twigs. Read more……
PILLOW CASE HOPPERS
This game is an oldie but a goodie replacing the hessian sacks with a pillow case providing hours of fun. Read more……
MAKE HOMEMADE BANANA AND CHOCOLATE CHIP MUFFINS
Kids love to cook and making Homemade Banana and Chocolate Chip Muffins will provide them with a fun and meaningful task that they can eat and enjoy. This recipe is super simple for kids where the ingredients can be thrown in the bowl at the same time. Read more….
To find more activity ideas for the school holidays head over to What's On 4 School Kids?
To download and print the School Holiday Planner click here: Printable School Holidays Planner L4K
The planner consists of 2 pages!
Happy holidays!