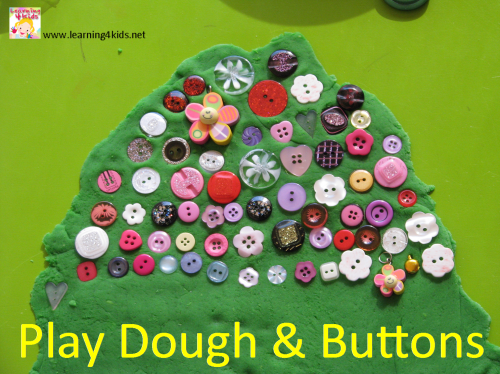 It is always fun to watch and see what kids will come up with when you give them simple props to promote play in an open-ended and unstructured way. There are no rules, no right or wrong……just fun, with a whole lot of learning happening.
This entertained the kids for hours!
What you will need?
An invitation to play – Here I have set up our activity table with play dough, and buttons to inspire the imagination and creativity. Other play dough equipment such as a kiddy safe knife and a rolling pin are also great for this activity.
A printable play dough recipe is available here: How to make play dough?
Let's Play
The creative ideas and the imagaination for playing with buttons and play dough is endless. Here is Miss 2 placing the buttons into the play dough standing up and flat ways. Also creating imprints in the play dough with the different shape buttons.
Let's Create 
Miss 2 loves to stretch and pull the play dough apart; here she has then squished the buttons into the small balls of play dough.
Another fun activity to try with the play dough and buttons is placing a ball of play dough on top of the buttons and rolling it out flat with a rolling pin. It is fun to lift the flattened play dough up to see what has happened underneath.
Let's Learn 
Miss 2 utilising all the equipment on the table: here she has made a play dough and button cake using the bowls the buttons were first placed in at the start of the activity.
The Learning benefits:
Self-expression
Imagination and creativity
Building and strengthening fine motor skills
Eye and hand coordination
Problem solving – using play dough to join parts together
Social interactions
 Other button activities here on learning4kids:
Sorting Buttons (Click on the image to read more)