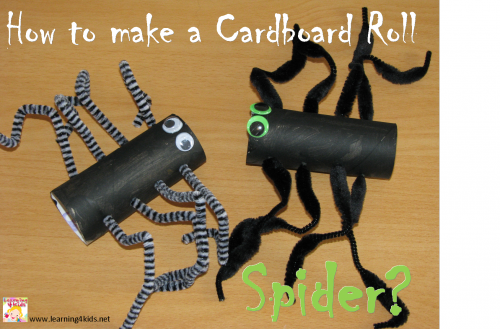 Making these cute craft Cardboard Roll Spiders are super easy to make and a great activity for this Halloween. They are also a great prop for imaginative play and role play for Incy Wincy Spider.
What you will need?
You will need a toilet rolls or cardboard rolls painted black, wiggly eyes, glue and pipe cleaners.
Our spiders were inspired by One Hungry Spider by Jeannie Baker. This book is a great introduction or motivator for this activity.
Let's Create 
Before painting the toilet rolls I punched four holes on both sides ready for the pipe cleaners to thread later.
When the cardboard rolls are dry, push and pull the pipe cleaner legs through the holes and bend at the ends to create the shape of spider's legs.
Let's Make 
Use PVA craft glue to stick on the eye and set aside to dry.
We used our Cardboard Roll Spiders as a prop to sing the nursery rhyme – Incey Wincey Spider.
Other Cardboard Roll Activities 
Sorting Colours with Cardboard Rolls
Learning Opportunities:
Language development through singing nursery rhymes
Creative thinking and imagination
Development of fine motor skills, eye – hand coordination
Available in Our Online Shop 
Click on the images