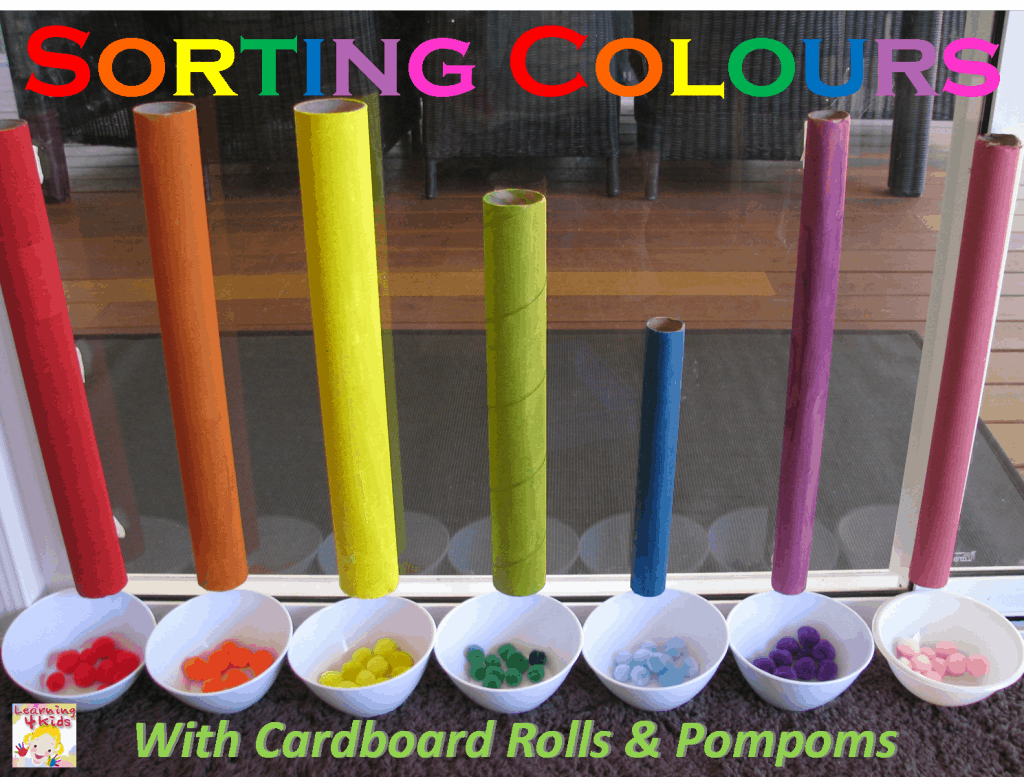 Make learning your colours fun with this interactive game using pompoms and cardboard rolls!
Miss 2 has been learning her colours for some time now as we have been focusing on a different colour each week and sharing the activities here in our Colour Series.
Today's activity is sorting and placing coloured pompoms into the matching coloured cardboard roll and catching them in a bowl.
It was a great way to reinforce the learning of colours, checking for understanding and having some fun with colours.
I think this Sorting Colours with Cardboard Rolls is also a great rainbow activity too!
What you will need?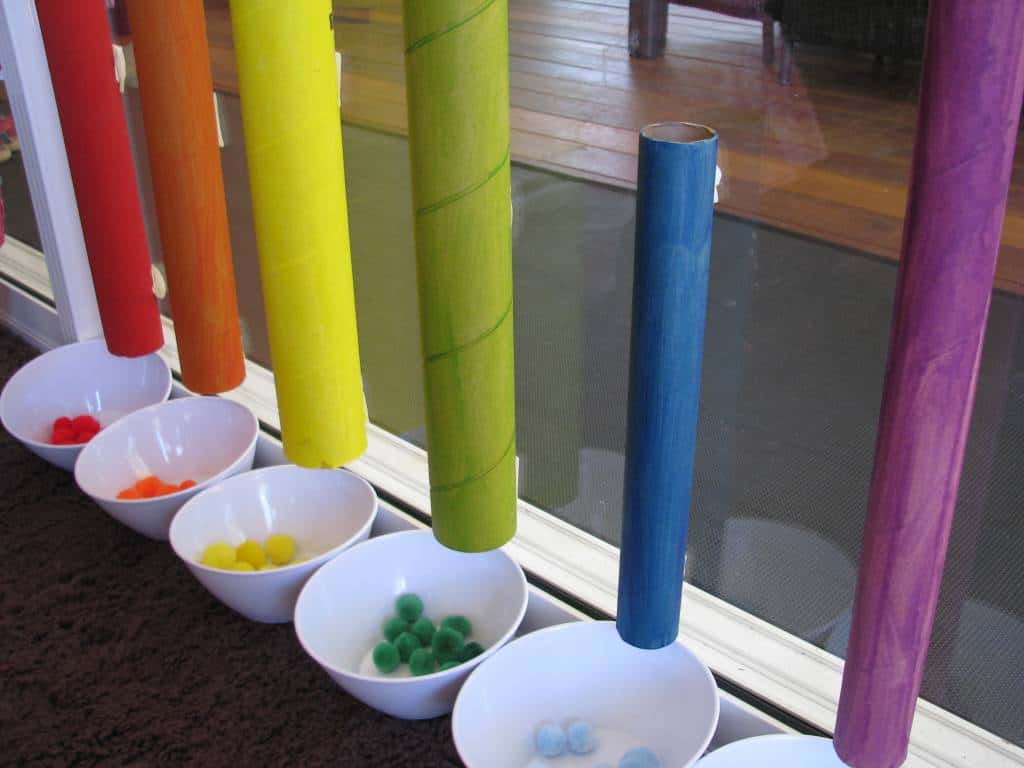 You will need an assortment of sizes and lengths of cardboard rolls, coloured paint, paint brushes, small bowls, assortment of coloured pompoms and masking tape.
This activity is very simple to organise and set up; firstly we painted the cardboard rolls and allowed them to dry in the sun. We arranged the small bowls out along the glass sliding door and set up the coloured pompoms in a small tray. The cardboard rolls are stuck to the window using double sided masking tape. I love how they are all different lengths and sizes, adding to the variation of this activity.
Tip: At the beginning of the activity place a couple of pompoms in the bowl underneath the matching coloured rolls to support the learning. Also arrange the cardboard rolls at a height that is comfortable for littlies to reach.
Let's Play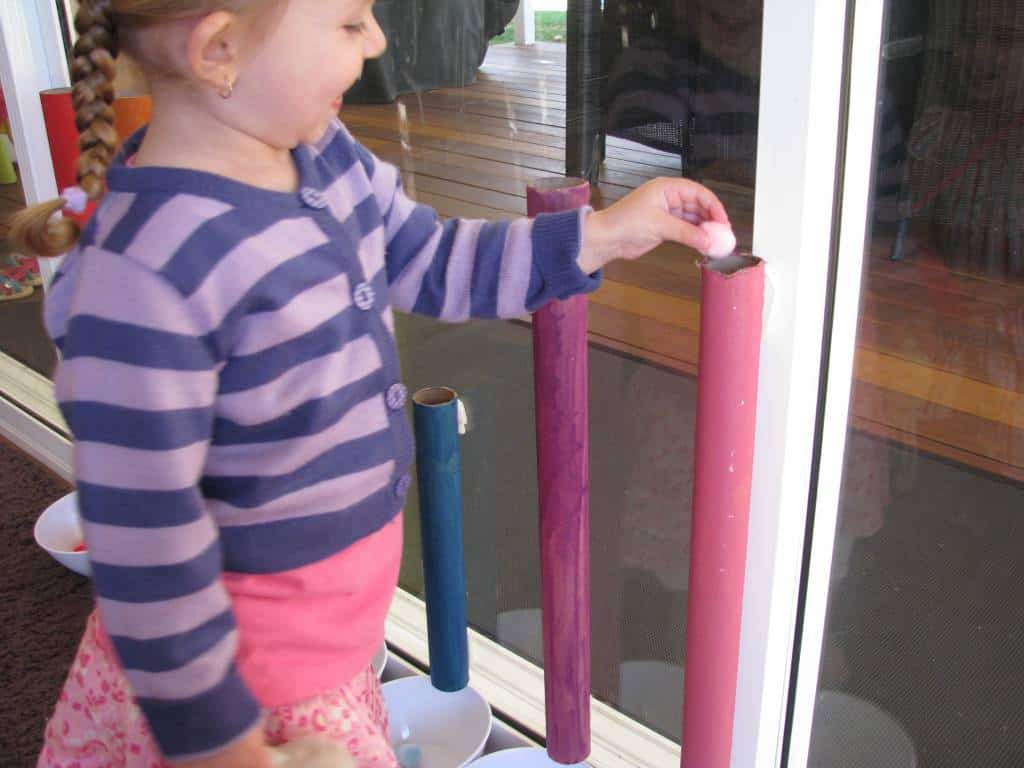 This activity was so much fun for Miss 2 as she just loved placing the different coloured pompoms into the matching cardboard rolls and watching them come out the other end. During the activity a lot of language was used reinforcing the different colours and their pronunciation, also a lot of praise and encouragement along the way as Miss 2's confidence grew as she completed the activity.
Let's Learn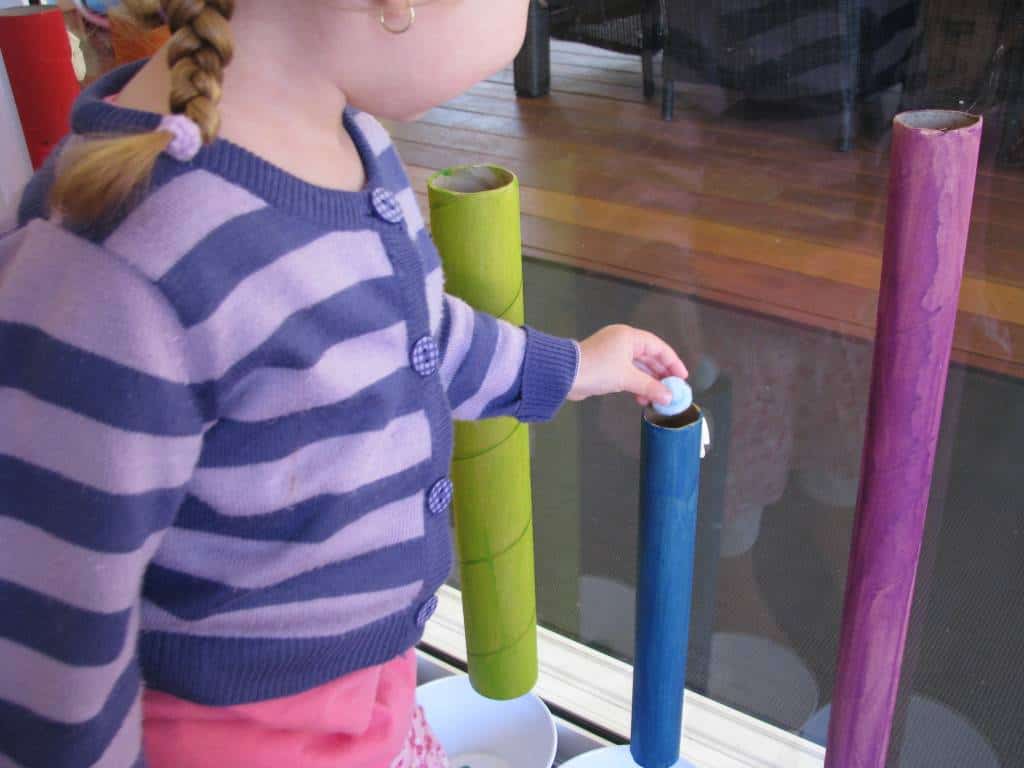 One of the great things about this activity is that Miss 2 was using a number of problem solving strategies and self-correction. When she placed the wrong coloured pompom into the cardboard roll and watched as it came out the other end. If the colour was not right she would giggle and say "oh no," then pick it up to try again.
I also noticed that she was carefully looking at the pompom in her hand and trying to match it with the colours already in the bowls before placing it into the matching coloured roll.
Learning Benefits of Sorting Colours
Fun, interactive and motivating!
Great for fine motor development and hand/eye coordination.
Self-correcting and problem solving.
Literacy: Connecting the written word with the colour.
Language skills: naming labelling and pronunciation.
Reinforce and extend learning about colours.
You may also like to try: Sorting Colours with Bottle Tops
Other Ideas
Printable Colour Activities Pack