Today I feel incredibly privileged to share a guest post with you written by a lovely blogging friend of mine, Penny from Mother Natured. Be sure to visit her fabulous website where you will find so many inspiring ideas, fun activities for kids and so much more!

Children love to touch, they love to play and they especially love magic. This activity extends on one of the activities created here at Learning 4 Kids. It doesn't take much to prepare but can give your children hours of magical fun (while they learn)!
We are avid followers of Learning 4 Kids. I can't help getting excited about the activities Janice creates with her children because I know my girls will love each and every one of them. We've had fun with the soap slime activity, camping indoors and nature painting, but our favourite so far is the coloured rice! We made a heap of it and tried out all of her suggestions. Then, I had an idea for another extension on this activity and I couldn't wait to try it out with my girls.
While Miss Possum and the Twinkles were playing with the coloured rice (you can learn to make it here), I grabbed a glue stick from the cupboard and drew an animal on the paper in glue. I quickly handed the paper to Miss Possum and asked her to cover the whole sheet with rice. She looked back at me confused.
Let's Play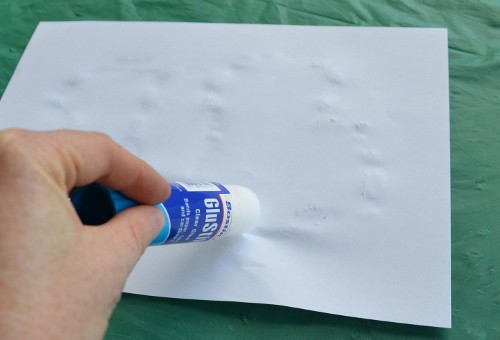 'There's a secret picture on there, it's magic,' I said.
'Oooooh,' she responded, and her quick little fingers started to cover the paper with rice. Magic is a great encouragement tool!
It's important to get the rice onto the paper as soon as you've finished drawing the animal with the glue stick. Once the glue is on the page it can dry very quickly and that means the rice won't stick.
Once the paper was covered with rice, we patted the rice down with our hands. We then folded the paper slightly and tipped the loose rice into a container and viola, beautiful animal rice art!
Let's Learn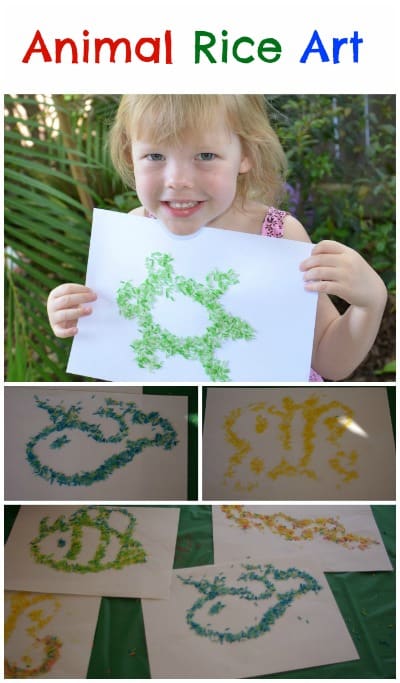 We made quite a few animals and then Miss Possum took over and used the magic glue stick herself and it was my turn to cover the paper with rice.
We also extended the activity by drawing numbers, letters and shapes with the glue stick.
Learning experience for this activity
Fun, interactive and motivating!
Animal recognition
Animal appreciation
Great for fine motor development and hand/eye coordination
The texture of the rice makes for a great sensory activity too!
Thank you so much to Janice for all her hard work on Learning 4 Kids. She is doing a wonderful job teaching her girls, and she's even teaching mine too!
ABOUT PENNY AND MOTHER NATURED
Penny is a wildlife education officer and a mother of three little girls. She writes Mother Natured to show parents that it's not hard to bring wildlife appreciation into the daily life of your child. Her website encourages a love of wildlife in children through engaging, meaningful and fun wildlife activities.
You can visit Penny's website at Mother Natured, follow her Facebook Page or Pinterest