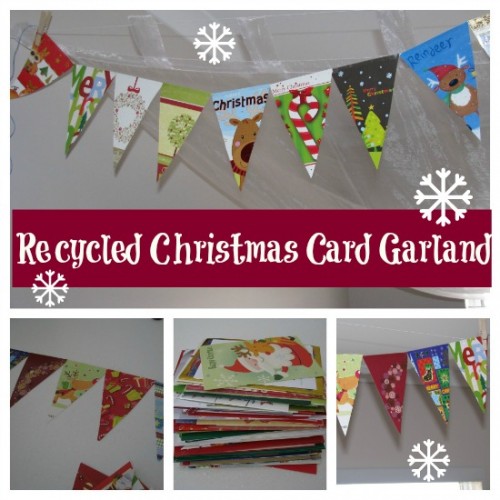 Turn your old christmas cards from last year or the new ones you receive this year into a fabulous Homemade Christmas decoration that the kids can make! A Recycled Christmas Card Garland is an easy, inexpensive and creative way to bring the colours of Christmas and fun into your home this Christmas.
What you will need?
You will need some old Christmas cards, scissors, a ruler, string and some sticky tape. We sorted through our christmas cards and separated them for size and shape that would best suit our garland.
Let's Make 
My two older girls and I had a bit of a system going when we made our Christmas Card Garland. I would be ruling the lines of the triangle onto the back of the picture side of the card and they would cut them out. Great cutting and scissor skills practice for them!
To make the Christmas Garland, first we created a stencil by cutting out a triangle on the back of the Christmas card (see photo). Using the stencil we then traced around it onto the back of picture side of the card. We then simply cut it out along the lines.
Let's Create 
When we had enough cards cut out, the girls laid them out in a colour order they liked. We turned the cards over and sticky taped them to the string.
On Display 
We now have a Christmassy colourful decoration hanging up in our play room! So simple, so easy and really cheap to make!
For more Christmas Activities <CLICK HERE>
Available in our Learning 4 Kids Shop 
The Ultimate Christmas Printable Activity Pack – 100 pages and over 20 activity ideas