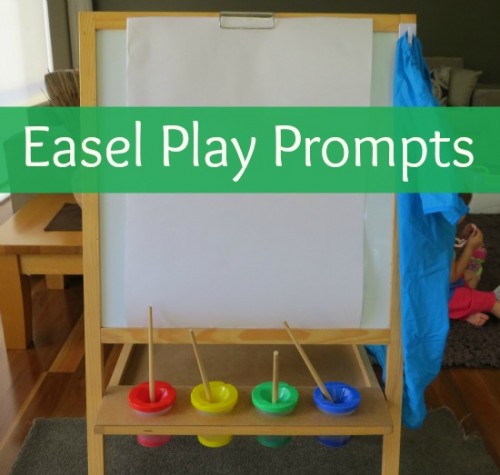 Information about Easel Play Prompts
WHAT IS AN EASEL PLAY PROMPT?
Before going into detail about what our Easel Play Prompts Series is all about, I think it is important to talk about what a play prompt is, as this lays the foundations for these activities. The easel is basically the learning tool for creating these play prompts.
A 'play prompt' is essentially an invitation to play, where you provide a learning opportunity by organising and arranging the environment so that it 'prompts' or 'invites' young children to play, explore, discover, investigate, manipulate, create and challenge. It is providing a learning environment to independently play (as much as possible) and capture a child's curiosity through hands-on and open-ended activities using an easel as the tool to set up these activities.
Lets Play 

Our easel can often be neglected when it comes to play opportunities but an easel is a brilliant learning tool for creating endless play opportunities, so I thought I would breathe some new life into our easel and start a new series sharing our play ideas with it.
Also when I was searching the web for inspiring easel play ideas I found it difficult to find fun hands-on and open-ended play ideas using an easel, so I thought I would create my own collection of activities and play ideas using an easel.
Our easel has a white magnetic board and I converted the other side which was a chalk board into a felt board, also known as a flannel board. Click on the link for full details and instructions on how I converted our chalk board side of our easel into a felt board….. DIY Felt Board
LEARNING OPPORTUNITIES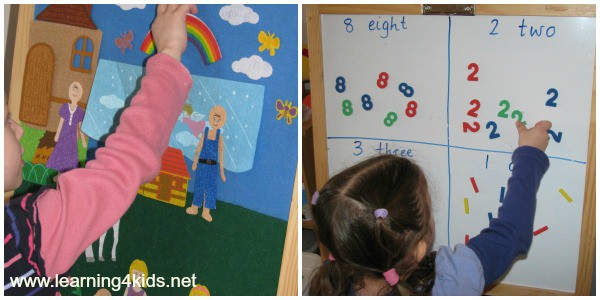 Easels provide as a canvas and tool for creating an endless range of learning opportunities. It can be used for any theme such as rainbows or winter, skills such as fine motor and coordination, subjects such as literacy and numeracy and so much more. Therefore utilising the easel as tool for learning can cover many learning opportunities and benefits.
Some of these benefits are:
Self-expression
Imagination and creativity
Building and strengthening fine motor skills
Eye and hand coordination
Problem solving
Social interactions and communication
Spatial awareness and shape – 2D and 3D shapes
Language development
Sensory & hands-on – involves touching, feeling and manipulating
Great for the imagination, make believe and role playing
Hand – eye coordination
Concentration
Spatial perception and exploration