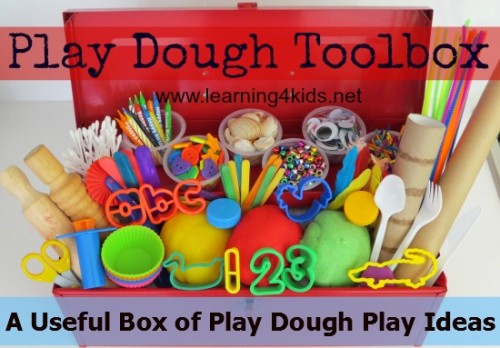 Information about Our Play Dough Toolbox
WHAT IS PLAY DOUGH TOOLBOX?
A Play Dough Toolbox is a box filled with play dough props and materials that are stored together in a 'toolbox' for making setting up and packing away play dough activities with kids easier with little fuss.
The Play Dough Toolbox is also a place to come on learning4kids to find a range of play dough play ideas and activities so you no longer have to worry about creating new and fresh ideas for playing with play dough. It is all done for you in the one spot!
It aims to keep it simple, easy to set up, fun and to promote learning and development through hands-on playing!
I hope to inspire more play dough play in the home by providing ideas, tips and fun activities with play dough because it is provides so much opportunity for learning and development!
WHY PLAY DOUGH TOOLBOX?
With busy lives and families always on the go, the play dough toolbox is a quick reference for simple play ideas for playing with play dough because play dough is a wonderful sensory learning tool with endless opportunities for development of key skills and learning.
WHAT TO PUT INTO YOUR PLAY DOUGH TOOLBOX?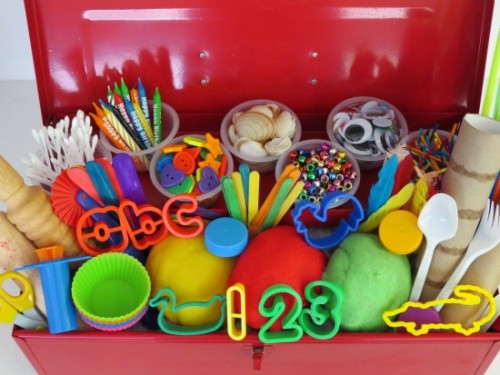 Having a play dough toolbox filled with a number of play dough props on hand a great way for easy set-up of play dough activities. It avoids all the fussing about when trying to organise play dough activities with the kids. It also means that you are more likely to do more play dough activities if you have the right materials on hand ready to go!
We are continually adding to our play dough toolbox but here is a start for developing your own play dough toolbox.
Play dough, 1 or 2 colours (Recipe here), rolling pins, play dough scissors (kiddy safe), patty pans, alphabet, number and animal cookie cutters, plastic forks, slastic knives, spastic spoons, cardboard tubes, pipe cleaners, popsicle sticks, beads, googly eyes, birthday candles, straws, dry pasta, buttons, feathers, shells, coloured craft match sticks, bottle tops, cotton tips and play dough roller cutter.
Tip: Use zip lock bags to keep all the different materials together. You could alternatively use a plastic tub to store all the play dough items in preparation for play dough activities.
IMPORTANCE OF PLAYING WITH PLAY DOUGH

Play dough provides many wonderful learning opportunities but is very well known for building fine motor skills. Play dough is a great tool to build and develop strength and control in the hands, fingers and wrists. This strength and control supports the use of writing tools, scissors and the ability to throw and catch objects.
Playing with play dough and the repetitive moulding and manipulating really gives fine motor muscles a real work out!!
IT ALSO PROVIDES OPPORTUNITIES FOR:
Self-expression
Imagination and creativity
Building and strengthening fine motor skills
Eye and hand coordination
Problem solving
Social interactions and communication
Spatial awareness and shape – 2D and 3D shapes
Language development
CLICK HERE TO VIEW OUR RANGE OF PLAY DOUGH TOOLBOX ACTIVITIES