click here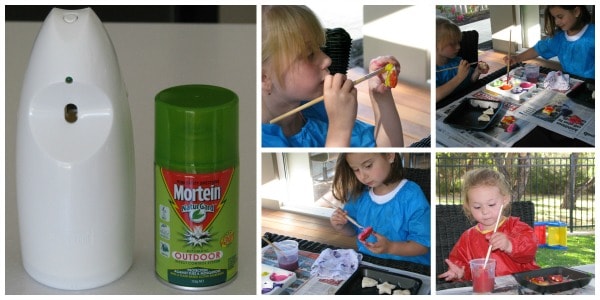 With the beautiful warmer weather and longer days in summer it is the perfect environment to play, paint and craft well into the evenings. We are able to take our messy play activities outdoors and enjoy the beautiful, warm and balmy evenings together as a family but this can sometimes be interrupted by flies and mosquitoes. Mortein NaturGard Automatic Outdoor offers outdoor protection against flies and mosquitoes with a plant based active ingredient which allows us to play outdoors longer and spend more quality family time together. This product is very useful as it means we can stay outdoors longer as dusk falls and we do not need to go back inside when the mosquitoes come out.
ABOUT MORTEIN NATURGARD AUTOMATIC INSECT CONTROL SYSTEM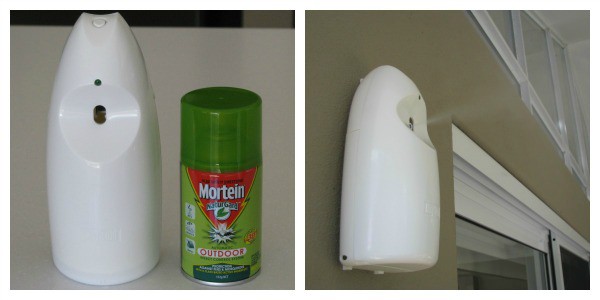 Mortein NaturGard Outdoor system releases regular bursts of mist containing plant based active ingredients which is an effective and convenient way to keep your outdoor entertaining areas protected from flies and mosquitos. This product is perfect for outdoor entertaining areas and protects areas of up to 25m2. The plant based active ingredients leaves a refreshing gentle scent which is not over powering, allowing us to continue our craft activity outdoors well into the evening without needing to go back inside when the mosquitoes came out. We were able to continue to enjoy our quality family time outdoors. The Mortein NaturGard Automatic System is also portable so you can take it camping or down the beach or alternatively is can be wall mounted.
Other info and HOW TO USE IT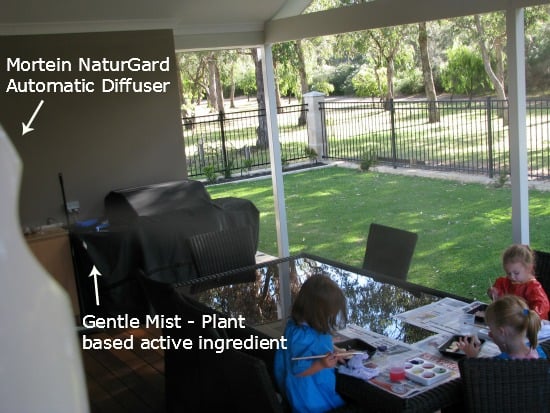 The diffuser is only to be used in a well-ventilated, sheltered outdoor area only when mosquitoes and flies are prevalent.
Place the diffuser at least 2m high from the ground and not closer than 300mm from the roof of any outdoor.
Adjustable settings and timer to allow the diffuser to spray mist every 20 seconds – 40 seconds.
On-off switch, so when it is no longer needed you can switch it off.
Each refill lasts for up to 30 hours.
GIVEAWAY
5 Products to giveaway – leave a comment answering the following question for a chance to win.
How would you find Mortein NaturGard Outdoor Automatic Insect Control system useful this summer? (Such as outdoor entertaining, crafting with kids or camping.)
This Giveaway is now closed – the winners have been notified. Thank you!

This post is sponsored by Nuffnang, for full details,