click here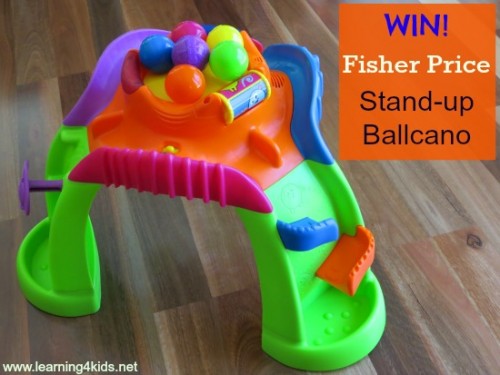 The squealing, laughter and excitement of my daughter was priceless as she watched a collection of colourful balls erupt and roll down the different passages of the Fisher-Price® Stand Up Ballcano™. The Fisher-Price® Stand Up Ballcano™ is an interactive activity table and ball toy for kids from 6 months to 36 months of age. There are lots of fun and action with this toy as 6 colourful balls lift and erupt from the centre and roll off into dividing sections as music plays and lights flash. There is even a cute little character and roller ball that when activated by the child's touch causes the eruption. The Fisher-Price® Stand Up Ballcano™ will keep little ones between 6 – 26 months active and busy as they chase and collect the balls over and over again and again.
FUN AND LEARNING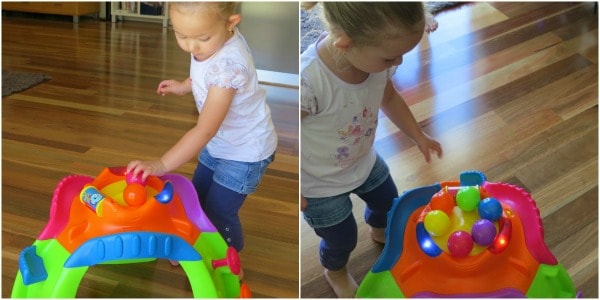 The Fisher-Price® Stand Up Ballcano™ promotes lots of repetitive play and action as it encourages toddlers to continually fill the centre and bat the roller to activate the eruption. Every time Miss 2 squealed and clapped her hands with excitement!! These repetitive actions of grasping and dropping the balls on top encourage and promote hand-eye coordination and motor skills. The balls are the perfect size and non-slippery for toddlers to grasp easily and manipulate. I love how the Ballcano initiates the anticipation of a 'surprise' for Miss 2 each time the colourful balls erupted from the centre. It is through playing, watching and doing that toddlers will learn quickly the cause and effect of their actions. The action of batting at the roller ball or the character switch causes an eruption of balls, energetic music and flashing lights. It is a wonderful reaction and a fun surprise every time!
ENCOURAGES PHYSICAL & GROSS MOTOR DEVELOPMENT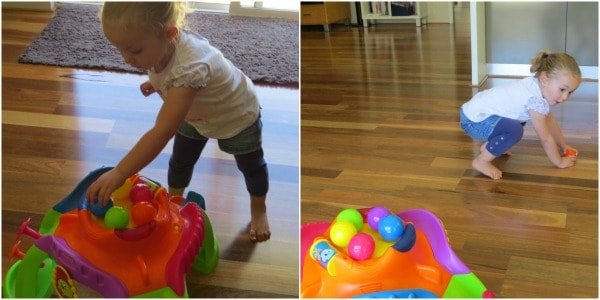 The Fisher-Price® Stand Up Ballcano™ is an interactive toy that also encourages young toddlers and babies to stand and promotes gross motor development through playing and chasing after balls. It has three sturdy legs and overt handles which are easy to grip and hold to stand and pull-up on for pre or early walkers. During an eruption the balls roll down the ramps and tunnels of each leg but while most of the balls may end up captured in the bottom of the Ballcano's legs, some will miss and roll away. This will encourage your baby or toddler (depending on the age) to chase them and return them back to the action. The Fisher-Price® Stand Up Ballcano™ encourages babies to pull-up, stand, cruise, scoot and crawl helping to develop gross motor skills.
GIVEAWAY
We have an awesome giveaway for one of our lucky readers to win!

1x Fisher-Price® Stand Up Ballcano™
To enter, all you need to do:
Is leave a comment here on learning4kids – answering the question:
"What is your favourite feature of the Fisher Price Stand-up Ballcano?"
Good luck!!
This giveaway has now closed – the winner has been notified. Thank you!
This post is sponsored by Nuffnang, for full details,