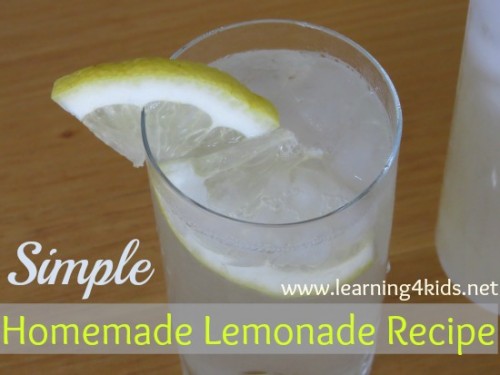 When I think of a refreshing summer's drink, Lemonade is usually one of the first drinks that springs to mind. So after receiving a bag of lemons from our neighbours recently, we thought we would give making homemade lemonade a try. This is the Simple Homemade Lemonade Recipe we came up with!
Involving the kids is a great way of opening up the many learning opportunities that comes with cooking with kids. The social interactions, processing information, following directions and instructions, problem solving and coordination and so much more!
Please note this recipe involves using boiling water, this part of the recipe is to be completed by an adult and as with all cooking activities with kids should be fully supervised.
What you will need?
1 Cup of Freshly Squeezed Lemon (Approx. 3 medium lemons)
2 Cups Boiling Water
1 Cup Cold Water
1 ¼ Cups Caster Sugar
Slices of Lemon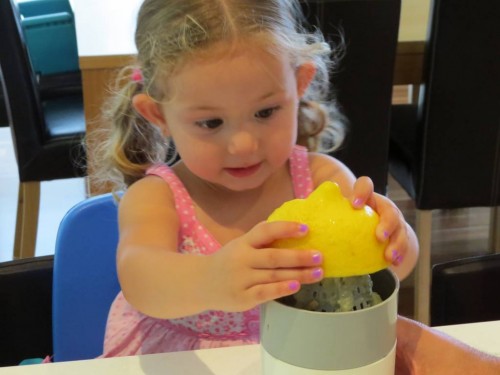 Instructions
Boil the kettle and place sugar into a heat proof container or jug.
Remove and squeeze juice from lemons.
Add boiling water to sugar and stir carefully until all dissolved.
Add cold water and lemon juice to the sugary water mixture.
Refrigerate until cool.
Add slices of lemon and ice.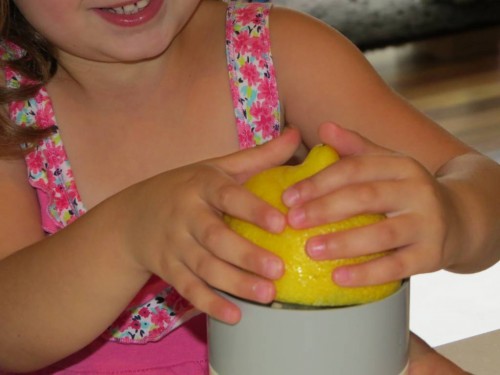 Learning Opportunities
So much learning happens when we cook with kids….
Sensory- hands on feeling and manipulating the dough through the senses.
Fine motor skills- strengthening little muscles through manipulation and moulding the cookie dough.
Hand and eye coordination- watching and doing and coordinating these actions.
Language development – cooking is a social activity requiring speaking and listening, also developing vocabulary.
Self-esteem- a sense of pride and achievement.
Numeracy- measuring quantities.
Download and print the full recipe here: Printable Simple Homemade Lemonade Recipe