Green and Speckled Play Dough Recipe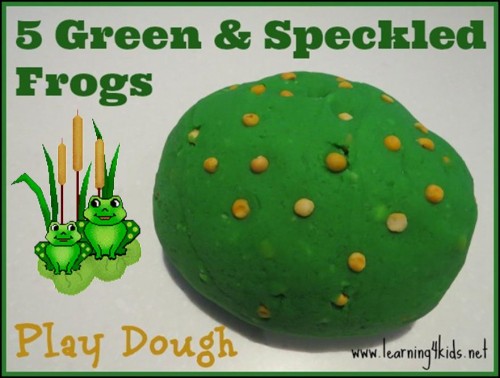 I love the theme 5 Green and Speckled Frogs for early learning experiences and making green and speckled play dough is the perfect fit for this theme.  It is great for setting up open-ended, hands-on and creative play dough activities for toddlers and preschool children.
The recipe is super easy to make and involves using a basic play dough recipe, green food colouring and adding the magic yellow speckles with yellow split peas.
I have used this play dough with my Kindergarten students and my 2, 5 and 7 year old here at home and will be sharing some activities shortly, so keep an eye out for them.
Click here to print this recipe: Printable Green and Speckled Play Dough Recipe
[h2 style1]What you will need? [/h2 style1]
1 Cup Plain Flour
1 Tablespoons Oil
1 Cup warm water
½ cup Salt
2 Teaspoons Cream of Tartar
2 Tablespoons Green Food Colouring
¼ Cup Yellow Split Peas
[h2 style1] How to make it?[/h2 style1]
Pour all dry ingredients, flour, salt and cream of tartar together in a saucepan.
Add water, oil and food colouring to dry ingredients.
I use a whisk before heating as I find this helps remove lumps and blends the ingredients well.
Cook over medium heat constantly stirring until it becomes a thick blob.
Then turn out onto a clean surface and knead into a smooth ball. Be careful the play dough will be very hot!  Use a little bit of flour if the play dough is sticky.
When the play dough has cooled, gradually fold and knead in the yellow split peas.
Store in a plastic zip lock bag or air tight container.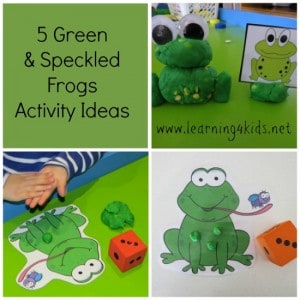 Click <HERE> for lots of fun activities and ideas using the Green and Speckled Play Dough.
Credit for frog image <here>
LIKE THIS POST
Come join the many playtimes here on Learning4kids, please enter your email address in the subscription box to receive updates right to your inbox!
3 responses to "Green and Speckled Play Dough Recipe"