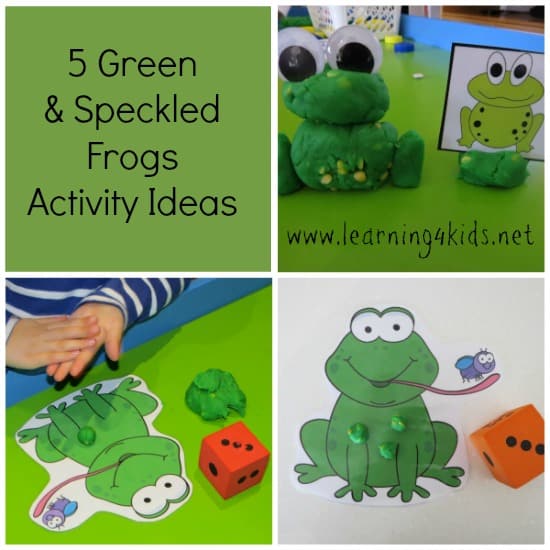 5 Little Speckled Frogs or 5 Green Speckled Frogs has always been a favourite nursery rhyme of mine. The oral language and numeracy benefits are so important in the early years of development.
Here are two activity ideas for your toddler or pre-schooler to play with this fabulous rhyme.
CREATING PLAY DOUGH GREEN & SPECKLED FROGS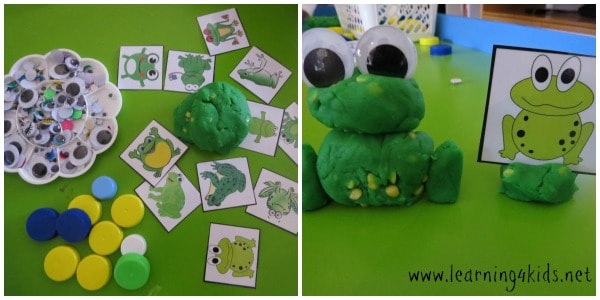 This is such a fun activity where children can create their very own Green and Speckled Frogs. It encourages kids to explore their creativity and imagination.
The materials I added to the play dough table were Green Speckled Play Dough, bottle tops and googly eyes. I also included cut out frog images to provide some ideas and also to look closely at the different shapes and features of the frogs in the pictures, then to try and re-create them.
The frog images are available as a printable here –> Printable Frog Images – Speckled Frogs
SPECKLED FROGS MATHS GAME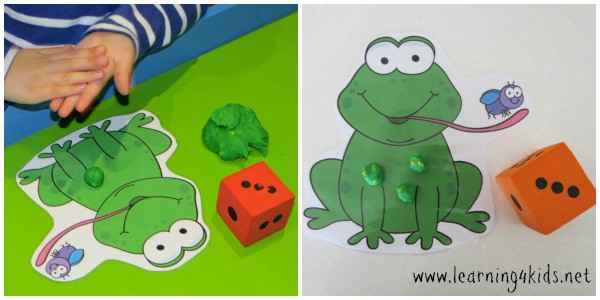 The aim of this game is to encourage basic counting, subitising, addition and subtraction skills.
Children are provided with a green laminated frog, a dice and Green and Speckled Play Dough. The idea is to roll the dice and then make the number of speckles for the frogs tummy that is shown on the dice. Roll the dice again, do we need to add or takeaway any speckles.
The Frog Image for this activity is available on the second page of this printable –>
Printable Frog Images – Speckled Frogs
Let's Learn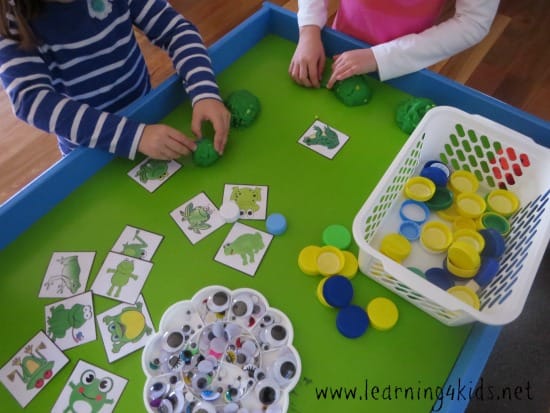 Learning Benefits:
Fine motor development and eye-hand coordination.
Literacy: oral language development through a repetitive and predictable rhyme.
Numeracy: addition and subtraction concepts.
Numeracy: counting and subitising numbers 1-6.
Imagination and creativity.
More information and activities on subitising, click <HERE>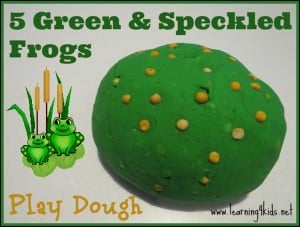 How to make Green and Speckled Play Dough? Click <HERE>
Eye spy with my little eye, some more FANTABULOUS frog activities around the web!
Frog on a Lilly Pad with Printable Template by The Craft Train
Milk Bottle Jumping Frogs by A Little Learning for Two
Printable Frog Mask by Wildlife Fun 4 Kids
Frog Egg Fun by Wildlife Fun 4 Kids
Five Green Frogs – Printable by Picklebums