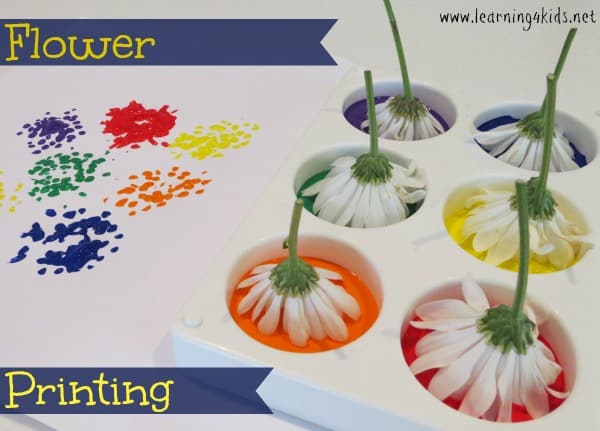 Flower Printing: Today I was about to put some old flowers from a vase into the bin as they were no longer looking their best. As I was doing this I thought that it was shame that some of the flowers were not quite ready for the bin and others were wilting and brown, so I decided to use the daisies which still had a bit of life in them and create this painting play opportunity for my girls.
The Flower Printing activity was so quick and easy to set up and also allows for kids of all ages to complete as it is open-ended.  It allows for different levels of ability and I have here my 7, 5 and 3 year old all enjoying this creative play opportunity.
What you will need?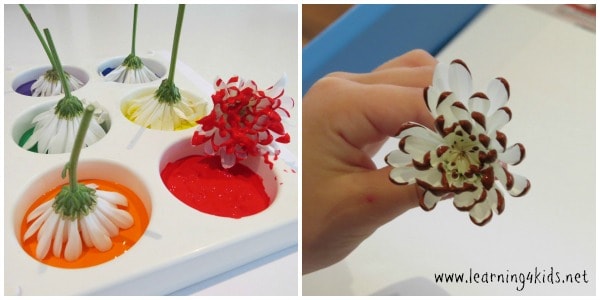 An Invitation to play – We set up our activity table with coloured paint in a pallet and placed the daisies face down into the paint with the stem facing upwards.  The stem made a great handle to hold the daisies when printing.
Before or after the Flower Printing Activity you may like to read stories about gardens or flowers. Our favourite is Isabella's Garden by Glenda Millard (affiliate link).
Let's Play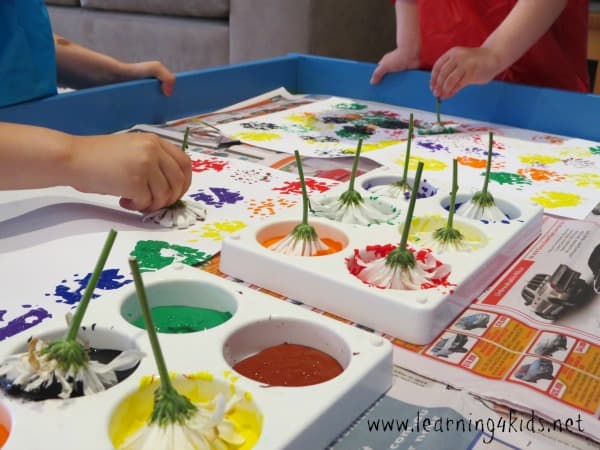 This activity allows kids the freedom to explore their creativity and imagination. Exploring the patterns the flowers transferred onto the paper, mixing coloured paint together and creating shapes and pictures with no restrictions or expectations.
There was lots of printing, swishing, dragging and twirling the daisies flowers covered in paint over the paper.
Let's Learn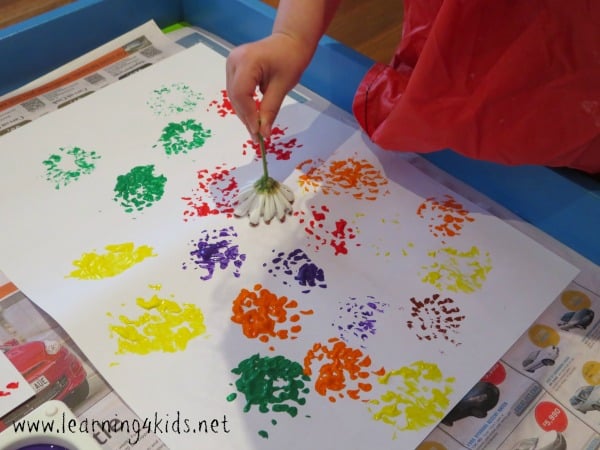 The learning benefits of this activity:
Self-expression with paint
Eye and hand coordination
Fine motor development
Experimenting and exploring with a new paint tool
Sense of achievement and pride
Colour recognition
For more Paint Play Ideas click <HERE>
Visit our Learning 4 Kids Shop
Printable CVC Words Bundle Activity Pack