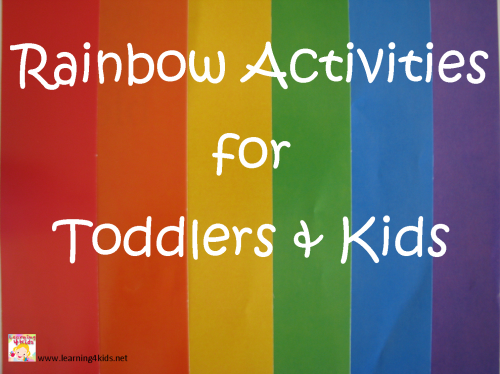 Here is a list of rainbow activities and learning experiences for toddlers and kids. You will find rainbow crafts, sensory play, fine motor activities and so much more to make and do with rainbows!
With spring arriving here in Australia I thought it would be a good time to collate and share some of my favourite rainbow theme activities that we have done here on learning4kids. I think rainbows would have to be one of my most favourite themes and I hope to continue to add to this collection.
Science Fun: Absorption and Making Rainbow Roses
Placing white roses into coloured water is a great science activity to demonstrate absorption. Children will be amazed and excited to see the changes developing in the petals of the flowers. Read more…
Make your own Salt dough Rainbow
Making your own Salt Dough Rainbow is a great way of creating a homemade toy for your child to play with.
Shaping the salt dough into a rainbow and cooking it hardens the dough, which then can be painted and used as a toy. The salt dough rainbow acts a bit like a puzzle where children are required to reconstruct and put the rainbow back together by looking at the shape and size of the coloured arches. Read more….
Rainbow Salt Tray 
A Rainbow Salt Tray is a great activity for kids of all ages. Why would you need crayons, textas, pencils and paper to draw when you can have more fun with a Rainbow Salt Tray? Read more here
Sensory Play with Rainbow Jelly 
Ooey, gooey, slushy and messy! A fun sensory experience playing with Rainbow Jelly, read more here
Rainbow Collage 
Adding a little bit of this and a little bit of that to create a rainbow collage! Read more here
Pipe Cleaner Rainbow 
A gorgeous little craft activity to create a 3 dimensional rainbow! Read more here
Fruity Loopy Rainbow 
All the colours of the rainbow in a box of breakfast cereal! Kids will have so much fun creating a rainbow using Froot Loops while sneaking one or two in the mouth. Read more here
Rainbow Sensory Rice Bags 
Bright, colourful, no mess and fun – sensory play with rainbow coloured rice in zip lock bags. Read more here
Rainbow Rice in a Cup 
Make your very own rainbows in a cup using coloured rice. Read more here
Rainbow Rice & Bottle Tops 
Using Rainbow Rice and Bottle Tops to create an open-ended, unstructured activity and see what the kids create while playing with these props. Read more here
Paper Plate Rainbow 
Using simple craft materials to create a Paper Plate Rainbow! Kids will enjoy swishing the rainbow through the air while listening to their favourite rainbow songs. Read more here
Paint a Rainbow 
Getting the paints out to explore the colours of the rainbow and sing your favourite rainbow songs as you paint away. Read more here
Puffy Paint
Make a rainbow using Homemade Puffy Paint. For the full recipe and instructions click here….
Enjoy the rainbow activities!!