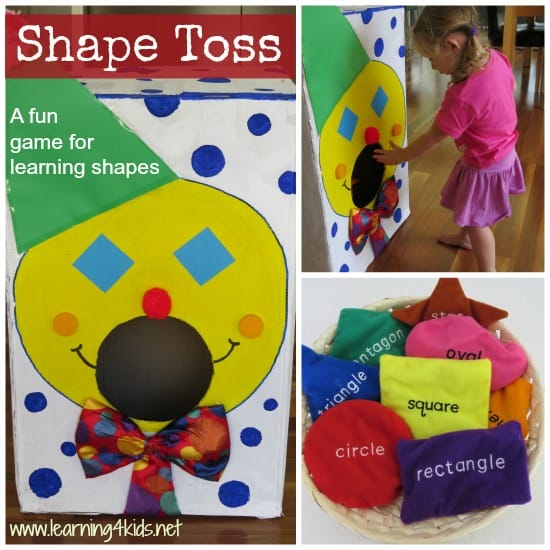 Shape Toss is a fun way to introduce and play with shapes. It also gets children up and active while learning about shapes and also some very important Fundamental Movement Skills.
We had so much fun with this one! We made our very own Shape Clown with a cardboard box that had an opening for a mouth for eating yummy shape bean bags.
What you will need?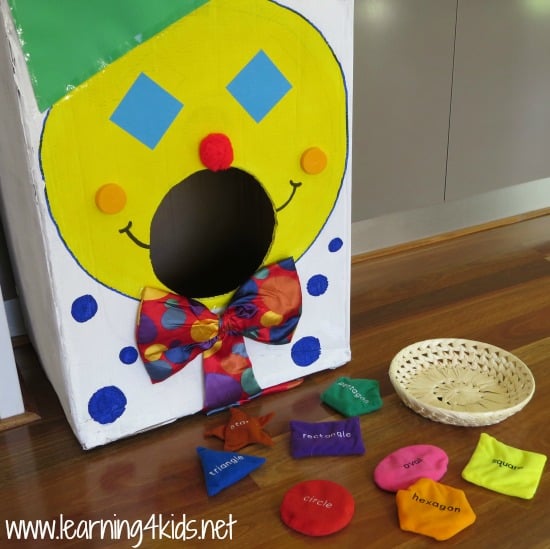 You will need, a large box, paint, paint brushes, PVA craft glue, sticky tape, card stock, black marker pen, shape bean bags and scissors.
To make our Shapes Clown we used an old cardboard box and cut out a circle for the mouth. We used a round dinner plate as a stencil to get a large circle shape. My children and I then painting the box white all over, waited for it to dry and gave it a seconded coat of paint. Once this was dry we painted the large yellow face and glued on two bottle tops for checks on either side of the mouth. We then cut out green card for the triangle hat and blue diamond eyes and glued these onto the cardboard box. Next we added a pompom to the hat and one for the nose. Finally, with a black marker pen we neatened up the yellow circle face and added a smile to the mouth of the clown. To add some final touches, we then added a bow tie to the clown.
Let's Play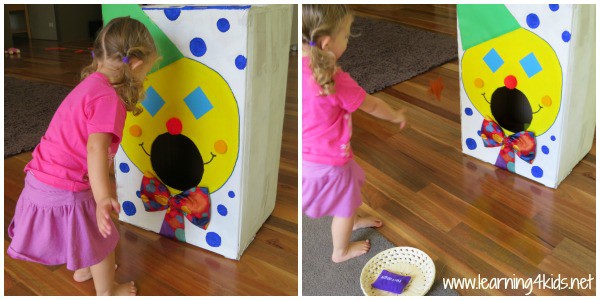 The aim of the game Shape Toss is to pick up one bean bag at a time, name the shape of the bean bag and then try and throw it into the mouth of the Shape Clown.
Some Ideas:
It doesn't matter how close the child gets to the clown's mouth to throw the bean bag, the idea is to have fun, play and feel the success of getting the shape bean bag into the clown's mouth.
Talk with your child about swinging the arm (under arm) and looking at where they would like the bean bag to go. Also standing up is best for throwing under arm.
Let's Learn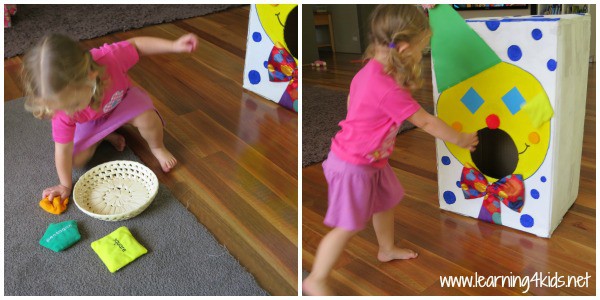 Learning Opportunities: 
Gross Motor Development and Fundamental Movement Skills
Hand-Eye Coordination and Control
Cause and Effect
Concentration
Spatial awareness – experimenting with shape and space
Language development – shape names
Pride and sense of achievement.
For more Shape Activities and Ideas <CLICK HERE>